Home - Search - Browse - Alphabetic Index: 0- 1- 2- 3- 4- 5- 6- 7- 8- 9
A- B- C- D- E- F- G- H- I- J- K- L- M- N- O- P- Q- R- S- T- U- V- W- X- Y- Z
---
Puckett, Allen E
---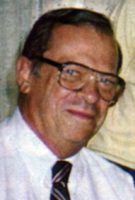 Puckett
Credit: NASA
American engineer. Leader at Hughes Aircraft, 1949-1987. Led development of radars and missiles in 1950's, took Hughes into communications satellite field in 1960's.
Born: 1919-07-25. Died: 2014-03-31.
Allen E. Puckett earned his Ph.D. at Caltech in 1949 and went to work for Hughes Aircraft Co. that year, becoming its executive vice president from 1965-1977 and its president and CEO 1977-1987. He served as a member of the Nixon Transition Team's Task force on Space to make recommendation on the new administration's efforts in aerospace that was led by Dr. Charles Townes.
Obituary: Caltech: Allen E. Puckett1919–2014
Allen E. Puckett (PhD '49), the engineer who helped father the delta-winged airplane, the guided missile, and the communications satellite, and who turned Hughes Aircraft into the nation's top provider of radar systems and other defense-related electronics, passed away at his home in Pacific Palisades, California, on March 31, 2014, at age 94.
Puckett was born on July 25, 1919, in Springfield, Ohio. He earned his bachelor's and master's degrees in engineering at Harvard (in 1939 and 1941, respectively) before coming to Caltech to pursue his doctorate in aeronautics under Theodore von Kármán, the leading aerodynamicist of the era. Puckett's PhD thesis, "Supersonic Wave Drag on Thin Airfoils," laid the foundation for designing the triangular-shaped delta wings found on such diverse aircraft as supersonic fighter jets, the SR-71 Blackbird spy plane, and the Space Shuttle orbiter.
Puckett launched his Caltech career in 1942 by helping build the first supersonic wind tunnel in the United States that could operate continuously at Mach 4, or four times the speed of sound. He used this expertise the following year to design a similar but much larger tunnel for testing supersonic artillery shells at the Army Ordnance Corps' Aberdeen Proving Grounds in Maryland. This wind tunnel, built at the height of World War II, remained in use well into the Cold War. While a graduate student, Puckett also served as the wind tunnel section chief at Caltech's Jet Propulsion Laboratory, then an Army research facility, and as the chair of the Subcommittee on High-Speed Aerodynamics for the National Advisory Committee for Aeronautics (NACA, the forerunner of NASA).
Upon graduating in 1949, Puckett joined Hughes Aircraft as the head of the aerodynamics department of the Guided Missile Laboratory, and cowrote the seminal Introduction to Aerodynamics of a Compressible Fluid with Caltech aeronautics professor Hans W. Liepmann. (A decade later, Puckett and Simon Ramo [PhD '36] would coedit the equally seminal Guided Missile Engineering.) Puckett remained at Hughes for his entire professional career, becoming chairman and CEO in 1978 and retiring in 1987.
Puckett served on the boards of directors of corporations including General Dynamics, the Fluor Corporation, and the Delco Electronics Corporation as well as numerous government, private, and charitable organizations. He was a fellow and past president of the American Institute of Aeronautics and Astronautics, and a member of the American Association for the Advancement of Science, the International Academy of Aeronautics, the National Academy of Engineering, and the National Academy of Sciences.
Among other honors, Puckett won the Lawrence Sperry Award of the Institute of Aeronautical Sciences (now the American Institute of Aeronautics and Astronautics) in 1948. He was named a Caltech Distinguished Alumnus in 1970, the California Manufacturer of the Year in 1980, a Chevalier of the French Legion of Honor in 1984, and was awarded the National Medal of Technology by President Reagan in 1985.
"Dr. Puckett's research and innovations contributed greatly to the security of our nation," says Guruswami Ravichandran, the John E. Goode, Jr., Professor of Aerospace and Professor of Mechanical Engineering and the director of the Graduate Aerospace Laboratories at Caltech. "He was a visionary in the field of space engineering, and the impact of his work will be felt long into the future."
At Caltech, Puckett endowed a chair in the Division of Engineering and Applied Science. Robert McEliece, who developed new systems for storing and transmitting large volumes of information (such as images from far-flung spacecraft), is the Allen E. Puckett Professor and Professor of Electrical Engineering, Emeritus; Pietro Perona, who works on building machines that can see the way humans can, is the Allen E. Puckett Professor of Electrical Engineering. Even in his 90s, Puckett retained "his vivacious intellect and curiosity," says Perona.
Caltech's Guggenheim Aeronautical Laboratory, the building where Puckett spent his time on campus as a grad student, was extensively renovated in 2008. The west end of the third floor now houses the Allen Puckett Laboratory of Computational Fluid Mechanics, which includes a seminar room, a computer lab, and open-plan workspaces for graduate students.
Puckett is survived by Marilyn Puckett, his wife of 50 years, five children, six grandchildren, and 14 great-grandchildren.
Written by Douglas Smith
---
Obituary: Los Angeles Times April 11, 2014, By Ralph Vartabedian
Allen E. Puckett, one of the engineers who after World War II built Los Angeles-based Hughes Aircraft Co. into the nation's leading defense electronics firm — dominant in the markets for air defense, radar systems, tactical missiles and satellites — has died. He was 94.
One of the nation's top technologists and defense executives during the Cold War, Puckett died March 31 at his home in Pacific Palisades after suffering a stroke. His wife, Marilyn, confirmed his death.
"Allen Puckett was one of the guiding spirits of Hughes Aircraft," said Malcolm Currie, a former deputy defense secretary who later followed in Puckett's footsteps as another president of the company. "He was brilliant. He was the father of our nation's guided missiles."
Although he never gave up his technical role, Puckett took over as chief executive of the firm in 1978 and navigated the enterprise through its sale to General Motors in June 1985. His management style encouraged technical excellence, according to former Hughes scientists.
"Puckett allowed things to exist by not squelching creativity," recalled Howard Laitin, a chief scientist at the company. "He understood that you couldn't suppress people who were motivated and he created a bottoms-up organization. Everybody had a title and nobody admitted to working for anybody."
Puckett's ascendancy in the company came early in his career, when he played a key role in developing the founding technology that gave Hughes Aircraft a big chunk of its business. By the early 1950s, the U.S. was growing increasingly concerned about the ability of Soviet Union bombers to penetrate U.S. airspace.
The U.S. needed a better air defense system and turned to Hughes, which was establishing an expertise in the still-new field of radar. Hughes came up with a long range radar-guided missile, the Falcon, putting Soviet bombers at risk before they could approach their U.S. targets.
Puckett, who studied aerospace engineering at Harvard University and then earned a doctorate at Caltech, pioneered an aerodynamic control system that relied on rear fins, according to Kenneth Richardson, a former Hughes president who also followed in Puckett's footsteps.
"Allen created the wing form and the rear control system," Richardson said. "It had low aerodynamic drag and it was highly maneuverable."
Under Puckett's stewardship, Hughes later captured the lion's share of the military's ground and air radar businesses, supplying the airborne radars used in the F-14, F-15, F-18 and B-2 aircraft and selling air defense systems around the world.
By the time of the first Gulf War, the Defense Department deployed 88 different weapons systems built by Hughes. At its peak, Hughes was the largest industrial employer in California with a workforce of 85,000, including 4,000 people with doctorates on its technical staff.
Puckett won a long list of awards, including the French Legion of Honor and the National Technology Medal. He also was a member of the National Academy of Engineering. He was born in Springfield, Ohio, on July 25, 1919, and he completed his undergraduate studies in 1939. His doctoral thesis laid down the design principles for swept-wing supersonic jets.
The late Albert Wheelon, a former deputy director of the Central Intelligence Agency, once said he joined Hughes largely because of Puckett.
"I was a great admirer of Allen," said Wheelon, who helped build Hughes into the world's dominant communications satellite manufacturer. It was Puckett, Wheelon said, who held the company together in the early 1950s during the exodus of some of its top talent, including Simon Ramo, Dean Wooldridge, Roy Ash and Charles B. "Tex" Thornton. They later formed major competitors to Hughes.
Laitin recalled Puckett as a jovial executive, though to outsiders he seemed cautious and reserved. Puckett focused on technology, leaving marketing and management of the secretive company to other senior executives. Until the early 1980s, Hughes operated in such a vacuum that its corporate spokesman Lee Pitt once boasted, "We don't give anybody the time of day."
As the end of Puckett's career approached in the mid-1980s, the defense industry shifted and the era when technological supremacy mattered above all else was ending. The company ran into a series of problems with quality control and cost overruns, much like other defense contractors.
And the company's unusual legal structure was about to crumble and Puckett could do little to stop it. Eccentric billionaire Howard Hughes had originally owned the company and then put it into a nonprofit medical institute controlled by his cronies.
A series of court and tax rulings, however, forced the Howard Hughes Medical Institute to sell the company after Howard Hughes died and GM won the auction. Puckett retired from Hughes in 1987, as the automaker was learning about some of the problems embedded in its new defense subsidiary and was demanding a partial refund on its $5.2-billion acquisition.
GM ultimately sold off Hughes piecemeal for big profits, dissolving one of the nation's leading technological firms.
"They dismembered the company," said Richardson, who has written a history of Hughes Aircraft.
Puckett funded a research chair in engineering at Harvard University and a laboratory at Caltech and served on the board of trustees at USC. And in his retirement, he engaged his passion for sailing. He kept a yacht in Marina del Rey and entered races along the Pacific coast.
Besides his wife of 50 years, Puckett is survived by five children, Allen W. Puckett, Nancy Grant, Susan Prislin, Margaret Harris and James R. Puckett; six grandchildren and 14 great-grandchildren.
---
---
Country
:
USA
.
Bibliography
:
535
.
---
---
1919 July 25 -
.
Birth of Allen E Puckett. - . Related Persons: Puckett. American engineer. Leader at Hughes Aircraft, 1949-1987. Led development of radars and missiles in 1950's, took Hughes into communications satellite field in 1960's..
---
2014 March 31 -
.
Death of Allen E Puckett. - . Related Persons: Puckett. American engineer. Leader at Hughes Aircraft, 1949-1987. Led development of radars and missiles in 1950's, took Hughes into communications satellite field in 1960's..
---
---
Back to top of page
---
Home - Search - Browse - Alphabetic Index: 0- 1- 2- 3- 4- 5- 6- 7- 8- 9
A- B- C- D- E- F- G- H- I- J- K- L- M- N- O- P- Q- R- S- T- U- V- W- X- Y- Z
---
© 1997-2019 Mark Wade - Contact
© / Conditions for Use
---