Home - Search - Browse - Alphabetic Index: 0- 1- 2- 3- 4- 5- 6- 7- 8- 9
A- B- C- D- E- F- G- H- I- J- K- L- M- N- O- P- Q- R- S- T- U- V- W- X- Y- Z
---
Power Tower Space Station - 1984
---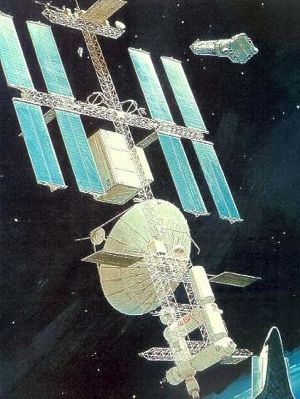 Power Tower Station
Power Tower Space Station Contractor Studies. Lockheed's "Power Tower" Space Station design.
Credit: NASA via Marcus Lindroos
American manned space station. Study 1984. The NASA Concept Definition Team eventually selected the Boeing/Grumman 'Power Tower' design as its baseline.
Status: Study 1984.
It would provide maximized user viewing opportunities, a clear area for Shuttle dockings and versatility in Station growth. The design was also less sensitive to changes in mass caused by the addition of modules to the Station. The 'Power Tower' station's main structure was to be 122 meters tall with 75 kW solar panels sticking 41 meters to either side of the centerline.
There were nine articulated attachments for external payloads dedicated to Earth and space observation. The initial Station would have had a crew of six working on 12-hour shifts, and feature two US-developed laboratory modules plus two habitation modules.
A maximum of 18 hours/week of EVA 'spacewalks' would be permitted per astronaut. International modules had not yet been incorporated in the design. The 'Power Tower' assembly schedule would have required 12 Shuttle flights over a three-year period, starting in April 1992. The Space Station would support research in a man-tended capability from April 1993 onwards. But the schedule was already starting to slip as the Office of Management and Budget reduced the Fiscal 1985 budget from $235 million to $150 million. The slight reduction increased the total cost to $8.1 billion at 1984 rates ($11.4 billion in current-year dollars).
Some observers were critical of the contractors' lack of independent involvement in the design process. They felt Station contractors did nothing but ape NASA's configurations in order to win the contract. In May 1987, former Space Station engineer Oliver Harwood testified in the Senate. 'Aerospace industry resources and capabilities were being squandered by 'rubber stamping' NASA designs instead of seeking independent and competitive solutions to system problems. Why were the artist's conceptions of eight major corporations so nearly identical? In a real competition seeking real answers there would be a different version for each of them.'
NASA allocated all Space Station definition work between four 'Work Packages' managed by its Johnson, Marshall, Goddard and Lewis Space Centers in July 1984. Work Package 4, led by the Lewis Research Center, would investigate Space Station power options. The two leading contenders were photovoltaic solar arrays and solar thermodynamic generators. Solar thermodynamic generators would use huge parabolic dishes to heat a fluid, which then powered electric generators. They were more efficient than traditional photovoltaic solar panels, had a longer lifetime and generated less atmospheric drag. But they also had to be pointed to within 1.5 degrees of the Sun to generate electricity, and the concept had never been tried before. NASA awarded contracts worth a combined $144 million to six contractor teams in April 1985, including $20 million to Work Package 4 contractors TRW and Lockheed. The agency still had not decided whether solar thermodynamic generators or photovoltaic arrays would be chosen. Another concept from the late 1980s would generate auxiliary power from the Earth's magnetic field by connecting a generator to a long electrically conducting tether. The other end was attached to the Space Station.
The McDonnell-Douglas 'Power Tower' Space Station crew modules were 10.7 meters long with docking ports at both ends. They would have been assembled end-to-end in a racetrack-like configuration. Some engineers felt this could have created dangerous dead-ends inside the Station if a module had to be depressurized. The contractors paid considerable attention to habitability issues since each crew would live and work on the Space Station for 90 days before returning to Earth. Rockwell's crew module proposal put all the equipment inside storage racks in the middle of the module rather than on the walls.
Article by Marcus Lindroos
---
---
Family
:
Space station
,
USA - Space Stations
.
Country
:
USA
.
Launch Vehicles
:
Proton-K
,
Space Shuttle
.
Agency
:
NASA
.
---
Photo Gallery
---
---
1984 Station Concept
Early 1980S Space Station Studies (Convair). This General Dynamics/Convair space station concept was intended as a "spacedock" for assembling and servicing large spacecraft in low Earth orbit.
Credit: NASA via Marcus Lindroos
---
---
1984 Douglas Station
1984 Space Station Study (McDonnell-Douglas). McDonnell-Douglas had already studied the NASA/Marshall Science & Applications Manned Space Platform in considerable detail when they received another space station definition contract in August 1982. The enlarged design depicted here appears to be loosely based on SAMSP.
Credit: NASA via Marcus Lindroos
---
---
TRW Station-1984
Early 1980S Space Station Studies (TRW). TRW further developed its earlier Science & Applications Manned Space Platform concept under the August 1982 NASA contract. The initial space station shown here would have supported a crew of 4 astronauts.
Credit: NASA via Marcus Lindroos
---
---
TRW Station-1984
Early 1980S Space Station Studies (TRW).
Credit: NASA via Marcus Lindroos
---
---
Power Tower Station
Power Tower Space Station - 1984. The "Power Tower" station's main structure was to be 122 meters tall with 75KW solar panels sticking 41 meters to either side of the centreline. There were nine articulated attachments for external payloads dedicated to Earth and space observation. The initial Station featured two US-developed laboratory modules plus two habitation modules. International modules had not yet been incorporated in the design.
Credit: NASA via Marcus Lindroos
---
---
Power Tower Station
Power Tower Space Station - 1984. The "Power Tower" assembly schedule would have required 12 Shuttle flights over a three-year period, starting in April 1992.
Credit: NASA via Marcus Lindroos
---
---
Power Tower Station
Power Tower Space Station - 1984. Boeing's "Power Tower" proposal. The company's Space Station studies were a major factor behind NASA's decision to adopt the design.
Credit: NASA via Marcus Lindroos
---
---
Power Tower Station
Power Tower Space Station - 1984. The NASA Concept Definition Team eventually selected the Boeing/Grumman "Power Tower" design as its baseline.
Credit: NASA via Marcus Lindroos
---
---
1984 Martin Station
Power Tower Space Station Contractor Study. Martin Marietta's "Power Tower" Space Station design. Some observers were critical of the contractors' lack of independent involvement in the design process. They felt Station contractors did nothing but ape NASA's configurations in order to win the contract.
Credit: NASA via Marcus Lindroos
---
---
Power Tower Station
Power Tower Space Station Contractor Studies. Rockwell's "Power Tower" Space Station design.
Credit: NASA via Marcus Lindroos
---
---
Power Tower Station
Power Tower Space Station Contractor Studies. "Power Tower" Space Station design by General Dynamics/Convair.
Credit: NASA via Marcus Lindroos
---
---
TRW Station-1984
Power Tower Space Station Contractor Studies. "Power Tower" Space Station design by TRW.
Credit: NASA via Marcus Lindroos
---
---
Power Options - 1984
Space Station Power Options. NASA awarded contracts to Work Package 4 contractors TRW and Lockheed. The agency still had not decided whether solar thermodynamic generators (above) or photovoltaic arrays would be chosen.
Credit: NASA via Marcus Lindroos
---
---
Station Options-1984
Space Station Power Options, 1984. Solar thermodynamic generators use huge parabolic dishes to heat a fluid, which then powers electric generators. They are more efficient than traditional photovoltaic solar panels, have a longer lifetime and generate less atmospheric drag. But they must also be pointed to within 1.5 degrees of the Sun to generate electricity, and the concept had never been tried before.
Credit: NASA via Marcus Lindroos
---
---
Station Power Tether
Space Station Power Options. This concept from the late 1980s would generate auxiliary power from the Earth's magnetic field by connecting a generator to a long electrically conducting tether. The other end is attached to the Space Station.
Credit: NASA via Marcus Lindroos
---
---
Power Options - 1984
Space Station Power Options. Space Station Work Package 4, led by the Lewis Research Center, would investigate Space Station power options. The two leading contenders are shown here: photovoltaic solar arrays (top) and solar thermodynamic generators (bottom)
Credit: NASA via Marcus Lindroos
---
---
IMC Station-1984
This McDonnell-Douglas illustration shows a "Power Tower" Space Station crew module. The original modules were 10.7 meters long with docking ports in both ends. They would have been assembled end-to-end in a racetrack-like configuration. Some engineers felt this could have created dangerous dead-ends inside the Station if a module had to be depressurised.
Credit: NASA via Marcus Lindroos
---
---
Power Tower Station
McDonnell-Douglas crew module mock-up from 1984-85. The contractors paid considerable attention to habitability issues since each crew would live and work on the Space Station for 90 days before returning to Earth.
Credit: NASA via Marcus Lindroos
---
---
Power Tower Station
Rockwell's crew module proposal put all the equipment inside storage racks in the middle of the module rather than on the walls.
Credit: NASA via Marcus Lindroos
---
---
Power Tower
Credit: NASA via Marcus Lindroos
---
---
---
Back to top of page
---
Home - Search - Browse - Alphabetic Index: 0- 1- 2- 3- 4- 5- 6- 7- 8- 9
A- B- C- D- E- F- G- H- I- J- K- L- M- N- O- P- Q- R- S- T- U- V- W- X- Y- Z
---
© 1997-2019 Mark Wade - Contact
© / Conditions for Use
---