Home - Search - Browse - Alphabetic Index: 0- 1- 2- 3- 4- 5- 6- 7- 8- 9
A- B- C- D- E- F- G- H- I- J- K- L- M- N- O- P- Q- R- S- T- U- V- W- X- Y- Z
---
Porter, Richard W
---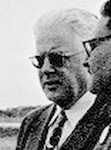 Porter
Credit: NASA
American engineer; his 400-strong GE team at Malta, NY, built US versions of the V-2 and Wasserfall, and engine for Vanguard. Influential, on many committees, but Malta was a dead-end, and closed in 1984.
Born: 1913-03-24. Died: 1996-10-06. Birth Place: Salina, Kansas.
Porter, the son of a bookstore owner of English-Scottish ancestry, grew up in Salina, Kansas. Of exceptional intelligence, he received a BS in electrical engineering from the University of Kansas in 1934 and a PhD three years later from Yale University. He began working for General Electric as a student engineer in 1937. Early in World War II he became noticed for his work on development of the remote control turrets for B-29 bombers, automatic tracking radar systems, and the earliest airborne fire control computers.
On 20 November 1944 the Army's Ordnance Department issued a contract to General Electric for Project Hermes, the development of long-range missiles surface-to-surface and surface-to-air missiles. With the defeat of Germany on near horizon, this was intended primarily for Americanization and continued development of German technology. In a three-phase program, GE was first to prepare with a comprehensive search of the available literature; then send an engineering group to the future occupied Germany to become familiar with the German missile programs; and finally to develop Americanized experimental versions of the German weapons.
Porter was named by General Electric as project manager for the effort. Porter and his team spent March-July 1945 in Europe, and were instrumental in Operation Paperclip, the transfer of von Braun's V-2 rocket team and associated technical materials and components to the United States.
On return, Porter supervised General Electric's support for the assembly and firing of 70 German V-2's at White Sands, New Mexico. GE developed a vast and secret 165-acre rocket motor laboratory at Malta, near Schenectady, New York. Massive test-stands were hidden in the site's 7,000-acre pine forest buffer zone. For a time the General Electric Flight Test Facility and the Malta Rocket Test Station became known as "The Little Peenemunde of the US". Government contracts on rocket engine and fuel testing, explosives testing, and atomic energy research were also carried out.
On the personal side, Porter married Edith Wharton Kelly, nine years his junior, in 1946. The couple would have two daughters and a son.
By 1950 Porter's 400-strong team had developed engines that were 10% more efficient than the V-2's motors, burning 100% alcohol. GE tested American versions of the Wasserfall (the Hermes A-1) and V-2 (the Hermes A-3) between 1951 and 1953. But by then Rocketdyne, using German motors as a starting point, had developed far more efficient engines for the Air Force's Navaho program. The Army's Redstone missile, designed by von Braun's German team and using a Rocketdyne engine, and the Nike Ajax all-American surface-to-air missile, were far more advanced than General Electric's copies of ten-year-old German designs. So the Hermes project was wound up.
Nevertheless GE placed Porter in overall charge of the company's guided missiles department in 1953. He became a President of the American Rocket Society and in 1955 was named to the secret Stewart Committee, tasked with selecting among competing designs for a rocket to launch America's first satellite into space. The Committee rejected von Braun's proven Redstone to launch the satellite, and instead selected the Navy's Vanguard design. This happened to be powered by a General Electric X-405 engine, a derivative of the Hermes A-3.
The Soviet Sputnik ended up being first in space. Vanguard exploded on the pad weeks later. Von Braun's Redstone, built by the German engineers Porter had brought to the United States 13 years earlier, ended up putting the first American satellite into space. Ironically, Porter was given the "honor" of announcing to reporters the success of von Braun's launch.
Congressional hearings into the failure of Vanguard noted Porter's self-interest in supporting the selection of Vanguard. GE reassigned him as a company-wide consultant. He served on many boards and panels such as the International Relations Committee of the Space Sciences Board, U.S. National Academy of Science, the U.S. Academy in the Committee on Space Research (COSPAR), U.S. Air Force Scientific Advisory Board (SAB) and the U.S. delegation for the U.N. Committee on the Peaceful Uses of Outer Space.
Porter received numerous honors and awards. These included the Coffin Award, Goddard Award and the Scientific Achievement Award given by Yale University.
GE Malta never did receive any major public contracts, even experiencing problems in developing the Auxiliary Power Unit for the XLR-99 engine of the X-15 in 1958. The Malta facility was closed down in 1984.
Porter enjoyed a long life in retirement, pursuing his hobbies of horticulture, cultivating orchids, as well as skiing and playing the clarinet.
---
---
Country
:
USA
.
Bibliography
:
5907
.
---
---
1913 March 24 -
.
---
1996 October 6 -
.
---
---
Back to top of page
---
Home - Search - Browse - Alphabetic Index: 0- 1- 2- 3- 4- 5- 6- 7- 8- 9
A- B- C- D- E- F- G- H- I- J- K- L- M- N- O- P- Q- R- S- T- U- V- W- X- Y- Z
---
© 1997-2019 Mark Wade - Contact
© / Conditions for Use
---