Home - Search - Browse - Alphabetic Index: 0- 1- 2- 3- 4- 5- 6- 7- 8- 9
A- B- C- D- E- F- G- H- I- J- K- L- M- N- O- P- Q- R- S- T- U- V- W- X- Y- Z
---
Pioneer XP
---
Part of X-Prize
---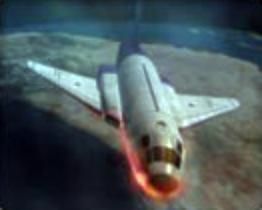 Pioneer XP
American manned spaceplane. Study 2004. X-Prize suborbital spaceplane concept of Pioneer Rocketplane, Solvang, California. No backing forthcoming.
Status: Study 2004. Payload: 400 kg (880 lb). Thrust: 88.94 kN (19,995 lbf). Gross mass: 8,200 kg (18,000 lb). Unfuelled mass: 3,200 kg (7,000 lb). Height: 13.10 m (42.90 ft). Diameter: 1.52 m (4.98 ft).
Pioneer XP was the X-Plane design of Mitchell Burnside Clapp of Pioneer Rocketplane, Solvang, California. The XP was a four-seat fighter-sized vehicle powered by two jet engines and one rocket engine. It was suitable for military applications, use as a research or observation platform, and promotional and sponsorship purposes. The XP would not use any launch assist, and could achieve speeds of about 6,600 kph, altitudes of 107 km, and three to four minutes of zero G. The thermal protection system, wing propellant tanks, and other systems were designed with the possibility of eventual upgrade so that the option for a longer-range aircraft could be realized in the future without the need for expensive reinvestment. The XP was to operate from ordinary airfields within the well-established rules and practices for experimental aircraft. The spacecraft was to be equipped with a cabin pressurized to 0.54 atmospheres plus pressure suits for the crew for redundancy
The engine rocket engine was a pressure-fed, vortex cold-wall-based system developed by Orbital Technologies Corporation (ORBITEC). This engine could provide the needed performance at a low cost, with high reliability and long life. By 2004 Rocketplane Limited had reached the full design phase. Rocketplane's propulsion team member, ORBITEC, had conducted tested of prototype rocket engines of many sizes, including a static firing of the RP-1/LOX cold-wall vortex engine.
The flight sequence would involve: takeoff at jet engines, and ignition of rocket engine while cruising horizontally at 9 km altitude; maximum G-force during the 120 second engine burn of 2 g's; engine cut-off at 53 km altitude and 3200 kph; ballistic arc to 107 km with four minutes of weightlessness; orientation in space using cold gas reaction control jets; re-entry deceleration of 3 to 4 g's; pullout to horizontal glide and restart of jet engines; powered, horizontal landing at landing strip from which flight originated; one hour total duration of mission; turnaround time between missions: 3 to 5 days .
Crew Size: 4.
---
---
Family
:
America's Space Prize
,
Spaceplane
,
Suborbital
.
Country
:
USA
.
Propellants
:
Lox/Kerosene
.
Agency
:
Pioneer Rocketplane
.
---
---
Back to top of page
---
Home - Search - Browse - Alphabetic Index: 0- 1- 2- 3- 4- 5- 6- 7- 8- 9
A- B- C- D- E- F- G- H- I- J- K- L- M- N- O- P- Q- R- S- T- U- V- W- X- Y- Z
---
© 1997-2019 Mark Wade - Contact
© / Conditions for Use
---