Home - Search - Browse - Alphabetic Index: 0- 1- 2- 3- 4- 5- 6- 7- 8- 9
A- B- C- D- E- F- G- H- I- J- K- L- M- N- O- P- Q- R- S- T- U- V- W- X- Y- Z
---
Orbital Express Astro
---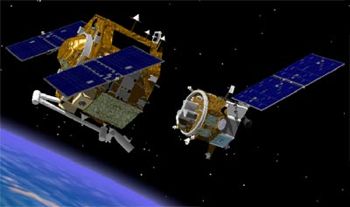 Astro
Credit: Manufacturer Image

American rendezvous technology satellite. Astro. The active satellite of the Defense Advanced Research Projects Agency's Orbital Express program.

AKA: Astro. Status: Operational 2007. First Launch: 2007-03-09. Last Launch: 2007-03-09. Number: 1 . Gross mass: 1,090 kg (2,400 lb). Diameter: 1.75 m (5.74 ft). Span: 5.59 m (18.33 ft).

Its objective was to demonstrate automated technology that would allow a service spacecraft to rendezvous, grapple, dock, refuel, repair and service another satellite.

The Defense Advanced Research Projects Agency's Orbital Express program's objective was to demonstrate automated technology that would allow a service spacecraft to rendezvous, grapple, dock, refuel, repair and service another spacecraft. Boeing built the active Autonomous Space Transport Robotic Operations (Astro) servicing satellite, and Ball Aerospace built the passive next-generation serviceable satellite (NextSat). They would be launched together on an Atlas 5 booster as the Department of Defense Space Test Program-1 mission. Once in orbit, they would separate, and then Astro would conduct multiple dockings with Nextsat.

Boeing was selected as prime contractor in March 2002. Ball was part of Boeing's team, and was given the role of building the target satellite. Other subcontractors included:
Starsys - docking capture system.
MacDonald Dettwiler, Canada - robot arm for Astro and associated computer hardware and software
Northrop Grumman - fluid transfer and propulsion system, including a mechanical device that allowed fueling hoses to be connected from Astro to Nextsat. mimics what the human hand could do.
Orbital Sciences - advanced video guidance sensor, which was used on NASA's failed Dart rendezvous mission.
MIT Draper Laboratory - mission manager software
The Orbital Express program cost was $267.4 million, more than double the original estimate in 2002.

Astro's autonomous rendezvous and capture sensor system used a visual-spectrum fixed focus camera with 200 km range and 6.5 degree field of view; another camera with 100 km range and a 40 degree field of view; a spotlight to illuminate the target at ranges below 25 m; a long-wave uncooled infrared imager with a 20 km range; and a laser rangefinder with a 10 km range.

At 500 meters range the resolution was sufficient for the software to determine the relative attitude of Nextsat by comparing the outline of the image with stored images of the spacecraft taken at different angles. In parallel the advanced video guidance sensor assesses target orientation using two different-wavelength infrared spotlights to illuminate two retroreflective targets on NextSat. The software weights the data coming from the two parallel systems.

Astro's maneuver and orientation system consisted of 16 x 3.6 N monopropellant hydrazine thrusters and reaction wheels. The Starsys capture system consisted of three claws that grappled a petal-shaped fixture on NextSat.

The three month flight demonstration program was to consist of:
One week initial checkout
Propellant transfer between Astro and NextSat while still coupled.
The robot arm, while the spacecraft were still together would be tested by external relocation of a 24 kg battery from Astro to NextSat. It would then un- and replug external Firewire connectors to two of Astro's sensor computers. Finally it would grapple NextSat and move it two meters away, move it to various positions, then redock it to Astro.
First NextSat free-flight, where the passive satellite would be released, Astro would back up to 10 m, then redock after 16 minutes.
Finally, seven rendezvous and capture exercises at ranges up to 7 km under varying lighting conditions. 24 propellant transfers in both directions would be conducted. were to occur in some of these, for a total of 24 movements. Repeated battery transfers were planned.
Electric System: 1.56 average kW.
---
---
Family: Rendezvous technology satellite, Technology. Country: USA. Launch Vehicles: Atlas V, Atlas V 401. Launch Sites: Cape Canaveral, Cape Canaveral LC41. Bibliography: 2.
---
---
2007 March 9 - . 03:10 GMT - . Launch Site: Cape Canaveral. Launch Complex: Cape Canaveral LC41. Launch Pad: SLC41. LV Family: Atlas V. Launch Vehicle: Atlas V 401.
Astro - . Mass: 1,090 kg (2,400 lb). Nation: USA. Agency: DARPA. Manufacturer: Boeing. Class: Technology. Type: Rendezvous technology satellite. Spacecraft: Orbital Express Astro. Decay Date: 2013-10-25 . USAF Sat Cat: 30772 . COSPAR: 2007-006A. Apogee: 498 km (309 mi). Perigee: 491 km (305 mi). Inclination: 46.0000 deg. Period: 94.50 min.

The active satellite portion of DARPA's Orbital Express satellite servicing experiment. Following operational tests while still joined or grappled together, the first 10-m distance Nextsat free flight and redocking by Astro was conducted on 5 May. On the second free-flight test on 11 May a serious computer failure left the two spacecraft 6 km apart. The problem was solved, revised software was uploaded to Astro, and it redocked with Nextsat on 19 May.
---
---
Home - Search - Browse - Alphabetic Index: 0- 1- 2- 3- 4- 5- 6- 7- 8- 9
A- B- C- D- E- F- G- H- I- J- K- L- M- N- O- P- Q- R- S- T- U- V- W- X- Y- Z
---
© 1997-2017 Mark Wade - Contact
© / Conditions for Use
---