Home - Search - Browse - Alphabetic Index: 0- 1- 2- 3- 4- 5- 6- 7- 8- 9
A- B- C- D- E- F- G- H- I- J- K- L- M- N- O- P- Q- R- S- T- U- V- W- X- Y- Z
---
N-IFV-II-III
---
Part of N1 Family
---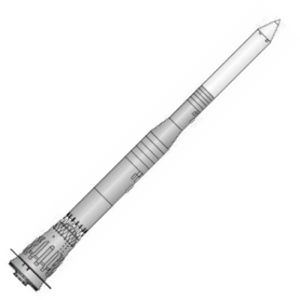 N-IFV-II, III
N-IFV-II, III of 1965

Russian heavy-lift orbital launch vehicle. N-IFV-II, III would use only the first stage from the N-1F, and use new cryogenic second and third stages. This cryogenic second stage seems not to have been pursued beyond the study phase.

Status: Study 1965. Payload: 150,000 kg (330,000 lb). Thrust: 51,500.00 kN (11,577,600 lbf). Gross mass: 3,250,000 kg (7,160,000 lb). Height: 145.00 m (475.00 ft). Diameter: 17.00 m (55.00 ft). Apogee: 220 km (130 mi).

LEO Payload: 150,000 kg (330,000 lb) to a 220 km orbit at 51.60 degrees.
---
---
Family: heavy-lift, orbital launch vehicle. Country: Russia. Engines: RD-57, 11D51F, NK-15VM. Stages: N1 Block V-II, N1 Block V-III, N1F 1965 - A. Agency: Korolev bureau.
---
---
Home - Search - Browse - Alphabetic Index: 0- 1- 2- 3- 4- 5- 6- 7- 8- 9
A- B- C- D- E- F- G- H- I- J- K- L- M- N- O- P- Q- R- S- T- U- V- W- X- Y- Z
---
© 1997-2017 Mark Wade - Contact
© / Conditions for Use
---