Home - Search - Browse - Alphabetic Index: 0- 1- 2- 3- 4- 5- 6- 7- 8- 9
A- B- C- D- E- F- G- H- I- J- K- L- M- N- O- P- Q- R- S- T- U- V- W- X- Y- Z
---
Megaroc
---
Part of V-2
---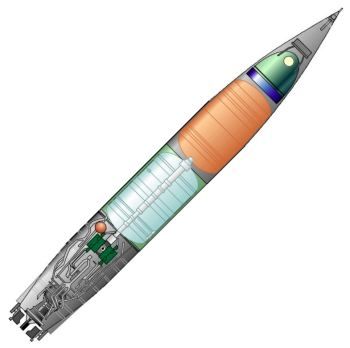 Megaroic
Credit: © Mark Wade
In December 1946 R A Smith proposed launch of a British pilot into space atop a heavily modified V-2. The proposal was rejected, and the first British citizen would not fly into space until 45 years later, when Helen Sharman visited the Mir space station.
Status: Study 1946. Payload: 586 kg (1,291 lb). Thrust: 265.00 kN (59,574 lbf). Gross mass: 21,200 kg (46,700 lb). Specific impulse: 239 s. Specific impulse sea level: 203 s. Burn time: 148 s. Height: 17.50 m (57.40 ft). Diameter: 2.18 m (7.15 ft). Span: 2.18 m (7.15 ft). Apogee: 300 km (180 mi).
Megaroc was proposed by R A Smith of the British Interplanetary Society to the British Ministry of Supply on 23 December 1946. Smith proposed that a re-engineered V-2 be used to launch a manned capsule to an altitude of 300 km. In order to achieve this, little of the original V-2 was left. The tanks would be increased in diameter and lengthened, the turbopump orientation altered, and the aerodynamic fins deleted. The unpressurized cabin was based on the configuration of pre-war BIS lunar lander studies. Return to earth would be braked by a parachute deployed at 113 km, with a collapsible skirt cushioning final impact with the ground. Variable thrust during ascent and parachute sizing meant that the pilot would have to endure no more than 3.3 G's during the flight. A dead-man switch ensured that if the pilot passed out, radio control from the ground would attempt to save the mission.
The British government, unlike those of France, the US, and Russia, had no interest in pursuing further development of the V-2, let alone a manned version with no military significance. Smith's letter was filed away, and he published the idea two years later. It was the first of numerous rejections by the government of the idea of British manned spaceflight over the following decades.
---
---
People
:
Manned V-2
.
Country
:
UK
.
Engines
:
Model 39
.
Propellants
:
Lox/Alcohol
.
Bibliography
:
13398
.
---
---
Back to top of page
---
Home - Search - Browse - Alphabetic Index: 0- 1- 2- 3- 4- 5- 6- 7- 8- 9
A- B- C- D- E- F- G- H- I- J- K- L- M- N- O- P- Q- R- S- T- U- V- W- X- Y- Z
---
© 1997-2019 Mark Wade - Contact
© / Conditions for Use
---