Home - Search - Browse - Alphabetic Index: 0- 1- 2- 3- 4- 5- 6- 7- 8- 9
A- B- C- D- E- F- G- H- I- J- K- L- M- N- O- P- Q- R- S- T- U- V- W- X- Y- Z
---
Mars Semi-Direct 1991
---
Part of American Mars Expeditions
---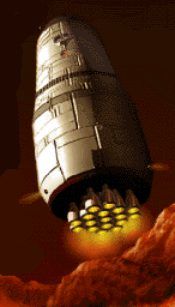 Mars Direct
Credit: NASA
American manned Mars expedition. Study 1991. Mars Semi-Direct was a NASA concept bridge between Zubrin's Mars Direct and NASA's Design Reference Mission 1.0. It was essentially a low-cost version of Boeing's STCAEM.
Status: Study 1991.
Mars Semi-Direct Mission Summary:
Summary: Concept bridge between Mars Direct and Design Reference Mission 1.0; low cost STCAEM
Propulsion: Nuclear thermal
Braking at Mars: aerodynamic
Mission Type: conjunction
Split or All-Up: split
ISRU: ISRU
Launch Year: 1997
Crew: 4
Mars Surface payload-metric tons: 40
Outbound time-days: 180
Mars Stay Time-days: 550
Return Time-days: 170
Total Mission Time-days: 900
Total Payload Required in Low Earth Orbit-metric tons: 220
Total Propellant Required-metric tons: 170
Propellant Fraction: 0.77
Mass per crew-metric tons: 55
Launch Vehicle Payload to LEO-metric tons: 105
Number of Launches Required to Assemble Payload in Low Earth Orbit: 2
Launch Vehicle: Ares Mars Direct
---
---
Family
:
Mars Expeditions
.
Country
:
USA
.
Agency
:
NASA
.
Bibliography
:
1989
.
---
---
Back to top of page
---
Home - Search - Browse - Alphabetic Index: 0- 1- 2- 3- 4- 5- 6- 7- 8- 9
A- B- C- D- E- F- G- H- I- J- K- L- M- N- O- P- Q- R- S- T- U- V- W- X- Y- Z
---
© 1997-2019 Mark Wade - Contact
© / Conditions for Use
---