Home - Search - Browse - Alphabetic Index: 0- 1- 2- 3- 4- 5- 6- 7- 8- 9
A- B- C- D- E- F- G- H- I- J- K- L- M- N- O- P- Q- R- S- T- U- V- W- X- Y- Z
---
LOK Energia
---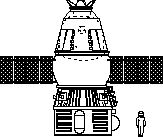 Energia-launched LOK
LOK Lunar Orbiter (Energia-launched)
Credit: © Mark Wade
Russian manned lunar orbiter. Study 1988. Lunar orbiter for Energia-launched lunar expedition. The LOK and LK lander would be inserted into lunar orbit by separate Energia launches.
AKA: Lunniy orbital'niy korabl'. Status: Study 1988. Gross mass: 30,000 kg (66,000 lb). Height: 9.60 m (31.40 ft).
After rendezvous and docking in lunar orbit, three of the five crew aboard the LOK would transfer to the LK and descend to the lunar surface. After 5 to 10 days on the surface, the ascent stage of the LK would return to lunar orbit, and the crew would transfer back to the LOK. The LOK would remain in lunar orbit for a full lunar day (29 days) until returning to earth.
Crew Size: 5. Orbital Storage: 30 days.
---
---
Family
:
Lunar Orbiters
,
Moon
.
Country
:
Russia
.
Spacecraft
:
Energia Lunar Expedition
,
LOK Energia SA
,
LOK Energia PAO
.
Launch Vehicles
:
Energia
.
Agency
:
Korolev bureau
.
Bibliography
:
89
.
---
Photo Gallery
---
---
Energia Lunar Base
Energia-launched Lunar Base
Credit: © Mark Wade
---
---
Energia-launched LOK
LOK Lunar Orbiter (Energia-launched)
Credit: © Mark Wade
---
---
---
Back to top of page
---
Home - Search - Browse - Alphabetic Index: 0- 1- 2- 3- 4- 5- 6- 7- 8- 9
A- B- C- D- E- F- G- H- I- J- K- L- M- N- O- P- Q- R- S- T- U- V- W- X- Y- Z
---
© 1997-2019 Mark Wade - Contact
© / Conditions for Use
---