Home - Search - Browse - Alphabetic Index: 0- 1- 2- 3- 4- 5- 6- 7- 8- 9
A- B- C- D- E- F- G- H- I- J- K- L- M- N- O- P- Q- R- S- T- U- V- W- X- Y- Z
---
Lockheed RTTOCV
---
Part of RTTOCV
---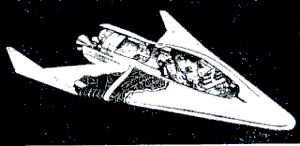 Lockheed RTTOCV
Credit: NASA
Lockheed sled-launched ten-crew winged orbital launch vehicle design of 1963, a result of NASA-funded studies with several contractors on Operations and Logistics for Space Stations.
Status: Study 1963.
Lockheed proposed a two-stage winged vehicle based on a 1958 contract conducted together with Hughes under a classified Air Force program. The booster would be vertically launched but land horizontally at conventional airfields.
In June 1962, NASA's Marshall Space Flight Center awarded an 18-month contract worth $428,000 to Lockheed for studying a "Reusable Ten-Ton Orbital Carrier Vehicle." The goal was to develop a ten-passenger HTHL TSTO spaceplane that "should be compatible with the philosophy used in the development of supersonic commercial jet aircraft and should offer a potential commercial application in the late 1970s, such as operating the vehicle over global distances for surface-to-surface transport of cargo and personnel." Lockheed's initial HTHL TSTO spaceplane concept from 1963 was an outgrowth of an earlier classified USAF study begun in 1958 with Hughes. The fully reusable orbiter of the later study would have been carried by a sled-launched booster rocketplane.
Crew Size: 10.
---
---
Family
:
orbital launch vehicle
,
Sled-Launched
,
Spaceplane
,
US Rocketplanes
,
Winged
.
Country
:
USA
.
Spacecraft
:
Lockheed RTTOCV
.
Agency
:
Lockheed
.
Bibliography
:
44
.
---
---
Back to top of page
---
Home - Search - Browse - Alphabetic Index: 0- 1- 2- 3- 4- 5- 6- 7- 8- 9
A- B- C- D- E- F- G- H- I- J- K- L- M- N- O- P- Q- R- S- T- U- V- W- X- Y- Z
---
© 1997-2019 Mark Wade - Contact
© / Conditions for Use
---