Home - Search - Browse - Alphabetic Index: 0- 1- 2- 3- 4- 5- 6- 7- 8- 9
A- B- C- D- E- F- G- H- I- J- K- L- M- N- O- P- Q- R- S- T- U- V- W- X- Y- Z
---
LM Langley Lightest
---
Part of Apollo LM Family
---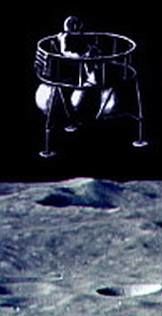 LM Langley Lightest

American manned lunar lander. Study 1961. Extremely light-weight open-cab lunar module design considered in early Langley studies.

Status: Study 1961. Payload: 100 kg (220 lb). Gross mass: 1,460 kg (3,210 lb). Unfuelled mass: 460 kg (1,010 lb). Specific impulse: 433 s. Height: 2.90 m (9.50 ft).

This version used cryogenic propellants to get a single crewman from lunar orbit, to the lunar surface, and back, at an all up mass of only 1,460 kg.

Earliest lunar orbit rendezvous schemes involved use of one or more extremely lightweight, unpressurized lunar landers to each take a single astronaut to the lunar surface. This Langley design was the absolute minimum considered. Others ranged from 3,284 kg to 4,372 kg - to be compared with the 15,000 kg design that eventually was selected.

Crew Size: 1.
---
---
Family: Lunar Landers, Moon. Country: USA. Propellants: Lox/LH2. Agency: NASA Langley. Bibliography: 26, 27.
---
Photo Gallery
---
---
Langley Lunar Lander
Credit: © Mark Wade
---
---
---
Home - Search - Browse - Alphabetic Index: 0- 1- 2- 3- 4- 5- 6- 7- 8- 9
A- B- C- D- E- F- G- H- I- J- K- L- M- N- O- P- Q- R- S- T- U- V- W- X- Y- Z
---
© 1997-2017 Mark Wade - Contact
© / Conditions for Use
---