Home - Search - Browse - Alphabetic Index: 0- 1- 2- 3- 4- 5- 6- 7- 8- 9
A- B- C- D- E- F- G- H- I- J- K- L- M- N- O- P- Q- R- S- T- U- V- W- X- Y- Z
---
LEAP lunar flyer
---
Part of Rescue
---
---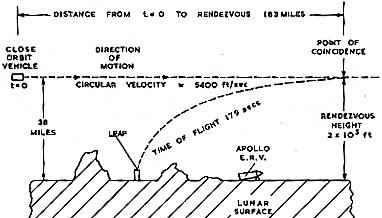 LEAP Profile
Lunar Escape Ambulance and Pickup mission profile.
---
American manned lunar flyer. Study 1961. LEAP was an early 1960's British design for getting disabled astronauts on the lunar surface quickly to lunar orbit for ferrying home.
AKA: LEAP;Lunar Escape Ambulance and close orbit Pickup. Status: Study 1961. Payload: 98 kg (216 lb). Thrust: 2.88 kN (648 lbf). Gross mass: 292 kg (643 lb). Unfuelled mass: 122 kg (268 lb). Specific impulse: 249 s. Height: 2.80 m (9.10 ft). Span: 1.30 m (4.20 ft).
The disabled crew member would be laid horizontally in a cylindrical pressurized capsule. Guidance was by a simple timer. At the necessary moment before the rescue craft passed overhead, the engine on the litter would ignite and send it straight up for 56 seconds, attaining a velocity sufficient to reach the fixed 61 km altitude of the rescue craft orbit. The nozzle would then swivel and fire along the long axis of the litter, accelerating it to the 1570 m/s orbital velocity of the rescue craft. Rendezvous operations and transfer of the crew were up to the rescue craft.
Crew Size: 1. Habitable Volume: 0.50 m3. Spacecraft delta v: 2,130 m/s (6,980 ft/sec).
---
---
Family
:
Lunar Flyers
,
Moon
.
Country
:
USA
.
Propellants
:
N2O4/UDMH
.
Bibliography
:
420
.
---
Photo Gallery
---
---
LEAP
Lunar Escape Ambulance and close orbit Pickup design.
---
---
LEAP
Credit: Manufacturer Image
---
---
---
Back to top of page
---
Home - Search - Browse - Alphabetic Index: 0- 1- 2- 3- 4- 5- 6- 7- 8- 9
A- B- C- D- E- F- G- H- I- J- K- L- M- N- O- P- Q- R- S- T- U- V- W- X- Y- Z
---
© 1997-2019 Mark Wade - Contact
© / Conditions for Use
---