Home - Search - Browse - Alphabetic Index: 0- 1- 2- 3- 4- 5- 6- 7- 8- 9
A- B- C- D- E- F- G- H- I- J- K- L- M- N- O- P- Q- R- S- T- U- V- W- X- Y- Z
---
Lagrangian Interplanetary Shuttle Vehicle
---
Part of American Mars Expeditions Family
---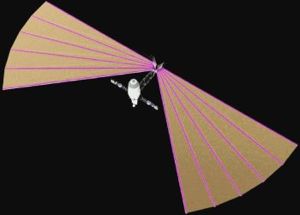 DRM 3 SEP
Credit: NASA

American manned Mars expedition. Study 1985. A Lagrangian approach to Mars exploration was proposed in June 1985. This would use the L1 sunward point of equal Earth/Moon/Sun gravity to assemble and refuel a large Interplanetary Shuttle Vehicle spacecraft.

Status: Study 1985.

After being boarded by a crew brought up from earth in a small shuttle, the ISV would maneuver into a series of moon/earth flybys. These would be used to sling the spacecraft toward Mars with minimal propellant expenditure. A further modest propulsive burn would park the ISV at the Mars/Sun L1 point. Such a reusable Interplanetary Shuttle Vehicle would provide a home for astronauts on the voyage to Mars and back, and be more flexible than the Mars Cycler concepts, at the expense of a modest propellant requirement. The concept was demonstrated using the ISEE-3 satellite in 1998.
---
---
Family: Mars Expeditions. Country: USA. Agency: NASA. Bibliography: 591.
---
---
Home - Search - Browse - Alphabetic Index: 0- 1- 2- 3- 4- 5- 6- 7- 8- 9
A- B- C- D- E- F- G- H- I- J- K- L- M- N- O- P- Q- R- S- T- U- V- W- X- Y- Z
---
© 1997-2017 Mark Wade - Contact
© / Conditions for Use
---