Home - Search - Browse - Alphabetic Index: 0- 1- 2- 3- 4- 5- 6- 7- 8- 9
A- B- C- D- E- F- G- H- I- J- K- L- M- N- O- P- Q- R- S- T- U- V- W- X- Y- Z
---
Hunsaker, Jerome C
---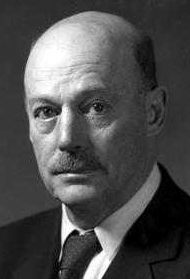 Hunsaker
Credit: NASA
American engineer. Organized and headed department of aeronautical engineering at MIT, 1939-1951. Influential, and discouraged development of jet and rocket propulsion in the US before 1945.
Born: 1886-08-26. Died: 1984-09-10.
Jerome C. Hunsaker was a senior aeronautical engineer at the Massachusetts Institute of Technology, organizing and heading the department there in the 1939 to 1951. He was heavily involved in the development of the science of flight in America for the first three-quarters of the twentieth century, heading NACA and serving on important World War II technical advisory committees. His influence on the history and progress of flight is now seen negatively, in that he discouraged the development of jet and rocket propulsion in the United States before 1945.
---
---
Country
:
USA
.
Agency
:
MIT
.
Bibliography
:
535
,
5543
.
---
---
1886 August 26 -
.
---
1984 September 10 -
.
---
---
Back to top of page
---
Home - Search - Browse - Alphabetic Index: 0- 1- 2- 3- 4- 5- 6- 7- 8- 9
A- B- C- D- E- F- G- H- I- J- K- L- M- N- O- P- Q- R- S- T- U- V- W- X- Y- Z
---
© 1997-2019 Mark Wade - Contact
© / Conditions for Use
---