Home - Search - Browse - Alphabetic Index: 0- 1- 2- 3- 4- 5- 6- 7- 8- 9
A- B- C- D- E- F- G- H- I- J- K- L- M- N- O- P- Q- R- S- T- U- V- W- X- Y- Z
---
HGV
---
---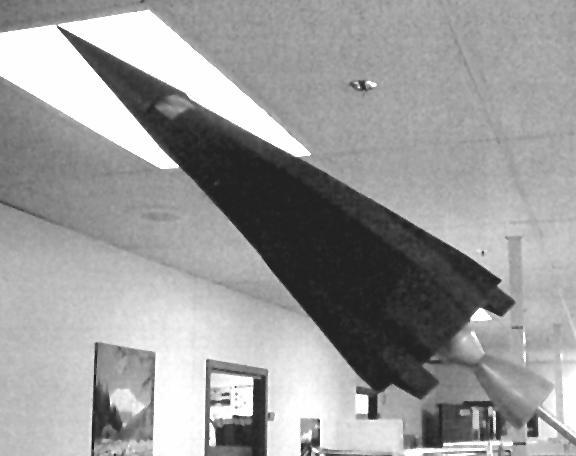 HGV
General Dynamic Hypersonic Glide Vehicle as exhibited in 1987
---
American spaceplane. Study 1992. The Hypersonic Glide Vehicle was a USAF project discussed openly in 1987 to 1988, which may have flown as a black project in 1992-1993.
AKA: Hypersonic Glide Vehicle;Strategic Boost Glide Vehicle. Status: Study 1992. Gross mass: 2,000 kg (4,400 lb).
A model of the General Dynamics concept for the vehicle was shown at the Air Force Association show in 1987. Martin Marietta was an associated or competing contractor. The HGV resurrected the Dynasoar boost-glide bomber concept of the 1950's. A booster would accelerate the HGV to Mach 18 and an altitude of 80 km. It would then enter a long glide, coming over its selected target at Mach 5 at 30 km altitude. An HGV launched by a Minuteman would have a range of 15,000 km; air-launched from a B-1 or B-52, a 7,400 km range.
Advanced materials and lightweight avionics were expected to make it possible for the ca. 2 metric ton HGV to have a useful payload. These might include an interceptor using Raytheon's LORAINE (Long-Range Interceptor Experiment) phased-array radar; or a surface attack missile using Loral air-to-surface guidance concepts developed for the USAF Maneuvering Re-entry Vehicle (MaRV) program. In 1987 the USAF was considering a five-year, $400 million program ending in four Minuteman-boosted HGV flights from Vandenberg AFB. Reports as late as 1992 indicated the tests may have occurred under the Have Space project, with the air-launched version referred to as the HGV and the ground-launched version as the Strategic Boost Glide Vehicle.
The NASA Hyper-X air-launched scramjet experiment may owe some of its launch vehicle underpinnings to HGV.
Many thanks to Bill Sweetman for pointing out the existence of this project.
---
More at: HGV.
---
Subtopics
---
| | |
| --- | --- |
| | Hyper American spaceplane. |
---
Family
:
Spaceplane
,
Suborbital
,
US Rocketplanes
.
Country
:
USA
.
Agency
:
USAF
,
DARPA
,
Martin
,
Convair
.
Bibliography
:
485
,
486
.
---
---
Back to top of page
---
Home - Search - Browse - Alphabetic Index: 0- 1- 2- 3- 4- 5- 6- 7- 8- 9
A- B- C- D- E- F- G- H- I- J- K- L- M- N- O- P- Q- R- S- T- U- V- W- X- Y- Z
---
© 1997-2019 Mark Wade - Contact
© / Conditions for Use
---