Home - Search - Browse - Alphabetic Index: 0- 1- 2- 3- 4- 5- 6- 7- 8- 9
A- B- C- D- E- F- G- H- I- J- K- L- M- N- O- P- Q- R- S- T- U- V- W- X- Y- Z
---
Hedrick, Walter
---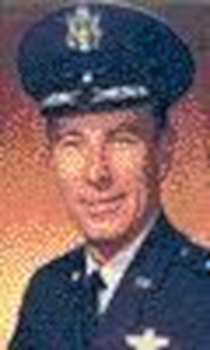 Hedrick
Hedrick, Walter

American USAF Officer. Walter Hedrick was an Air Force Brigadier General who was involved in space systems throughout the 1960s. In 1967, he became the Air Force's director of space, deputy chief of staff, research and development.

Born: 1921-08-02. Died: 2008-09-12.

USAF Biography: BRIGADIER GENERAL WALTER RUSSELL HEDRICK JR.

Retired August 01,1970 Died September 12,2008

Brigadier General Walter Russell Hedrick Jr., was director of space, Deputy Chief of Staff, Research and Development, U.S. Air Force. In this capacity he was responsible for space and space related development activities, and was the Headquarters, U.S. Air Force focal point on space matters to include coordination and liaison with other government agencies.

General Hedrick was born in Hawley, Texas, in 1921. He attended Texas Technological College at Lubbock from 1938 until 1941 when he joined the Army Air Corps and entered the aviation cadet program.

During World War II, he served in 1943 with the 86th Fighter-Bomber Group in North Africa, Sicily and Italy.

In January 1947 he was assigned to the Tenth Air Force at Brooks Field, Texas, and later to the Fourteenth Air Force at Orlando Air Force Base, Fla.

After serving as a project officer under Secretary of the Air Force W. Stuart Symington, General Hedrick entered the University of Maryland in 1950, where he received his bachelor of science and master's degrees in physics.

General Hedrick was a participant in nearly all of the Air Force's major nuclear test operations. He was first associated with nuclear testing in the Test Branch of Air Force Office of Atomic Energy (AFOAT-1) from 1952 to 1955. In 1955 he was assigned as chief of Technical Operations Division, Air Force Special Weapons Center, Kirtland Air Force Base, N.M., and in 1957 took command of the 4951st Support Squadron at Eniwetok. He returned to Kirtland in 1958 to serve with the 4925th Test Group as assistant to the group commander and later as air commander.

He was assigned to the Space Systems Office of the Air Force Ballistic Missile Division, Los Angeles, Calif., in October 1960. In July 1965 he took command of the Air Force Satellite Control Facility, He was assigned deputy commander for space, Air Force Systems Command Sept. 1, 1966.

General Hedrick became director of space, Deputy Chief of Staff, Research and Development, in March 1967.

He was a command pilot with more than 5,000 flying hours. During World War II, he flew 53 aerial combat missions - 40 as flight leader - totaling 83 combat hours.

His military decorations included the Legion of Merit, the Air Medal with four oak leaf clusters and the Air Force Commendation Medal.

(Current as of June 15, 1969)
---
Santa Fe New Mexican Obituary:

BRIGADIER GENERAL WALTER R. HEDRICK, JR. Age 87, passed away on September 12, 2008 in Santa Fe. He was preceded in death by his wife, Helen Harvey Hedrick. He was survived by his sons, Russ Hedrick and Rob Hedrick, both of Santa Fe. He will be missed by Helen's children: Haila, Goose, Sara and Frank; his grandchildren; his great grandchildren; his very special friends who are like family: Judy Lopez, Debi Dofflemyer and Marshall Thompson. General Hedrick was born in Hawley, Texas on August 2, 1921. He was attending Texas Tech in Lubbock when he joined the Army Air Corps in 1941. During World War II he served with the 86th Fighter-Bomber Group in North Africa, Sicily and Italy. He flew 53 aerial combat missions â€" 40 as flight leader â€" totaling 83 combat hours. He continued flying general aviation aircraft after retirement. After the war, General Hedrick entered the University of Maryland where he received his Bachelors and Masters of Science degrees in Physics. During his Air Force career, he held many important positions including Air Commander of the 4925th Test Group at Kirtland AFB in Albuquerque, New Mexico. General Hedrick retired in 1970 after serving at the Pentagon as Director of Space, Deputy Chief of Staff, Research and Development. He earned many military decorations. He moved to Santa Fe in 1971 where he bought the Hedrick Building on Palace Avenue and started a real estate brokerage, development and property management business as The Hedrick Company. He eased into retirement from the real estate business several years ago, but continued to manage family business interests. Russell, as he was commonly known, had many close friends and business associates in Santa Fe, including Matt Zamora, Newt Eddy, Ed Brosseau, Ted Houston, Dorset Sanford and Martin Weil.
---
---
Country: USA. Agency: USAF. Bibliography: 535.
---
---
Home - Search - Browse - Alphabetic Index: 0- 1- 2- 3- 4- 5- 6- 7- 8- 9
A- B- C- D- E- F- G- H- I- J- K- L- M- N- O- P- Q- R- S- T- U- V- W- X- Y- Z
---
© 1997-2017 Mark Wade - Contact
© / Conditions for Use
---