Home - Search - Browse - Alphabetic Index: 0- 1- 2- 3- 4- 5- 6- 7- 8- 9
A- B- C- D- E- F- G- H- I- J- K- L- M- N- O- P- Q- R- S- T- U- V- W- X- Y- Z
---
Hayward, John Tucker
---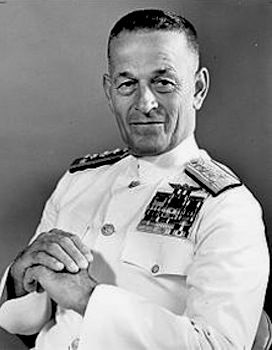 Hayward
Hayward, John Tucker
American officer. Naval liaison to Manhattan Project and Sandia. Deputy commanding officer for research and development, USN, 1957-1963.
Born: 1910. Died: 1999-05-23.
John Tucker Hayward was a career naval officer and naval aviator whose assignments had included the Manhattan Project and the Armed Forces Special Weapons Base, Sandia, NM. He was serving as deputy commanding officer for research and development, Navy Department, from 1957 to 1963. He became a vice admiral in 1959, retired in 1968, and became vice president of General Dynamics Corporation in that year.
Wikipedia:
John Tucker "Chick" Hayward (15 November 1908 – 23 May 1999) was a World War II naval aviator. He helped develop one of the two atomic bombs that was dropped on Japan in the closing days of the war. Later, he was a pioneer in the development of nuclear propulsion, nuclear weapons, guidance systems for ground- and air-launched rockets, and underwater anti-submarine weapons. A former batboy for the New York Yankees, Hayward dropped out of high school and lied about his age to enlist in the United States Navy at age 16. He was subsequently admitted to the United States Naval Academy at Annapolis, from which he graduated 51st in his class of 1930. He volunteered for naval aviation.
During World War II, he served at the Naval Aircraft Factory in Philadelphia, where he was involved in an effort to improve aircraft instrumentation, notably the compass and altimeter. He attended the University of Pennsylvania's Moore School of Electrical Engineering, and studied nuclear physics. In June 1942, he assumed command of a new patrol bomber squadron, VB-106, equipped with PB4Y-1 Liberators, which he led in a daring raid on Wake Island, in the Solomon Islands campaign, and in the Southwest Pacific Area. Returning to the United States in 1944, he was posted was to the Naval Ordnance Test Station at Inyokern, California, where he joined the Manhattan Project, participating in Project Camel, the development of the non-nuclear components of the Fat Man bomb, and in its drop testing.
After the war ended, he travelled to Hiroshima and Nagasaki as part of the team investigating the bomb damage, and during Operation Crossroads, he led the effort to photograph the nuclear explosion at the Bikini Atoll. In 1949, he assumed command of VC-5, the first naval nuclear bomber squadron. In March 1949, he took off from the carrier USS Coral Sea in the Atlantic in a Lockheed P2V Neptune bomber carrying a dummy Little Boy pumpkin bomb, flew across the United States to make a simulated attack on a test site in California., and flew back to Patuxent River, where he landed after a total of 23 hours flying. In August 1950, he was at the controls of the first carrier landing and takeoff of an AJ-1 Savage heavy attack bomber.
From June 1951 to May 1953, Hayward was head of the Military Applications Division of the Atomic Energy Commission, where he conducted atomic weapons laboratory work at Los Alamos National Laboratory. In June 1953, he assumed command of the escort carrier USS Point Cruz, and was involved in the rescue of a baby who was found abandoned in the trash at a U.S. Army depot. In June 1954, he became the first naval aviator to command the Naval Ordnance Laboratory, where he was involved with the development of the Mark 52 naval mine and the Mark 90 nuclear bomb, a nuclear depth charge. He was Assistant Chief of Naval Operations for Research and Development, and then Deputy Chief of Naval Operations for Development. In 1962 he assumed command of a carrier task force which included the nuclear-powered aircraft carrier USS Enterprise. He commanded the Antisubmarine Warfare Force, Pacific Fleet, from 1963 to 1966, and then was president of the Naval War College from 1966 until 1968.
---
---
Country
:
USA
.
Agency
:
USN
.
Bibliography
:
535
,
5499
.
---
---
1999 May 23 -
.
Death of John Tucker Hayward. - . Related Persons: Hayward. American officer. Naval liaison to Manhattan Project and Sandia. Deputy commanding officer for research and development, USN, 1957-1963..
---
---
Back to top of page
---
Home - Search - Browse - Alphabetic Index: 0- 1- 2- 3- 4- 5- 6- 7- 8- 9
A- B- C- D- E- F- G- H- I- J- K- L- M- N- O- P- Q- R- S- T- U- V- W- X- Y- Z
---
© 1997-2019 Mark Wade - Contact
© / Conditions for Use
---