Home - Search - Browse - Alphabetic Index: 0- 1- 2- 3- 4- 5- 6- 7- 8- 9
A- B- C- D- E- F- G- H- I- J- K- L- M- N- O- P- Q- R- S- T- U- V- W- X- Y- Z
---
Harrison, John
---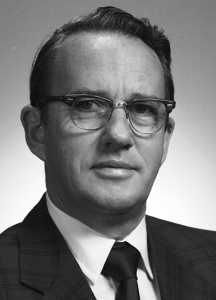 Harrison
Credit: via Richard Martin

American engineer. Manager of Test Operations for the Atlas-Centaur and Titan 3E-Centaur.

Born: 1919-02-06. Birth Place: Belton, Missouri.

Harrison, son of a plumber, graduated from Finlay Engineering College in Kansas City, Missouri in 1941. He worked for Cessna on AT-17 trainers before moving to Boeing Wichita in 1944. He then worked at Boeing until 1947 on the B-29 flight test crew, except for a brief 1944-1945 stint in the Army Air Force. In 1947 he moved to Convair in California, working on flight test of their Lark and Terrier missiles at China Lake and Point Mugu. When the Terrier was moved to Convair's new Pomona plant, Harrison elected to stay in San Diego, and was assigned to the Atlas ICBM project in 1952. He served the program in the proposal phase, then technical customer and vendor support, then as Flight Test planner, then Test Conductor at Cape Canaveral, where he launched the first Atlas, and then as Administration Manager of Base Activation from 1959. In 1961 he was named Base Manager of Convair's Sycamore Test Site. A year later he was made Manager of Test Operations for the Centaur program. He was later involved in integration of the Centaur with the Titan launch site for the Viking Mars lander program. Harrison retired in February 1981.
---
---
Country: USA. Agency: Convair. Bibliography: 4460, 4475, 5492.
---
---
1919 February 6 - .
---
---
Home - Search - Browse - Alphabetic Index: 0- 1- 2- 3- 4- 5- 6- 7- 8- 9
A- B- C- D- E- F- G- H- I- J- K- L- M- N- O- P- Q- R- S- T- U- V- W- X- Y- Z
---
© 1997-2017 Mark Wade - Contact
© / Conditions for Use
---