Home - Search - Browse - Alphabetic Index: 0- 1- 2- 3- 4- 5- 6- 7- 8- 9
A- B- C- D- E- F- G- H- I- J- K- L- M- N- O- P- Q- R- S- T- U- V- W- X- Y- Z
---
Hansen, Grant Lewis
---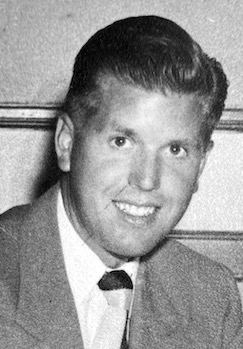 Hansen
Hansen, Grant Lewis
Credit: Courtesy Hansen Family
American engineer, aerospace manager who played key roles in development of the Thor and Centaur rockets.
Born: 1921-11-05. Died: 2008-10-08. Birth Place: Bancroft, Idaho.
Hansen, son of a single mother confectionary saleswoman, graduated in electrical engineering from the University Of Illinois' Institute of Technology in1948. After post-graduate engineering and management work at Illinois and UCLA he joined Douglas Aircraft, eventually becoming Chief of Design. In 1955 Douglas won the crash program to create the Thor intermediate range ballistic missile, which went from contract award to first launch in less than a year. In 1960 Hansen accepted a position at Convair Astronautics as Chief of Design Engineering. Here his immediate task was to serve as project director for the Centaur, the first hydrogen-fueled rocket stage, designed to mate with the Atlas booster. When he took over, the project was in disarray and NASA was about to cancel General Dynamics/Convair's contract. He got the program under control, and then managed completion of development of the Centaur and also served as Vice President for Launch Vehicles.
In 1968 Hansen was tapped by Roger Lewis, Chairman of the Board of General Dynamics, to serve as Assistant Secretary of the Air Force for Research and Development. He labored at the Pentagon for five years, getting the troubled F-111 and C-5A aircraft programs under technical and cost control. He fought Nixon's decision to have the USAF abandon expendable launch vehicles and use NASA's space shuttle instead.
Hansen then returned to General Dynamics as Corporate Vice President and General Manager of Convair, replacing Jack Bowers, who went the other way through the revolving door to become an Assistant Secretary of the Navy. When he returned to Convair, it was at the end of the Apollo program, the ICBM programs, and the huge aerospace spending during the Viet Nam war. Profit was $1 million but staff was 12,000. Within a year, Hansen had laid off half the staff and profits were up to $20 million. Having accomplished his final 'fixit' job, he retired in 1978.
OBITUARY: UT San Diego: Grant L. Hansen; 4-time World War II survivor later was aerospace executive
By Hieu Tran Phan STAFF WRITER
October 11, 2008
Grant L. Hansen was wounded during the Japanese attack on Pearl Harbor, and he survived three ship sinkings in World War II.
After leaving the Navy, he went on to become an executive in San Diego for defense giant General Dynamics and its Convair division.
He shared family dinners with close friend and astronaut Neil Armstrong, and his children often played with those of another pioneering astronaut, William Anders.
But Mr. Hansen's relatives said his military and aerospace accomplishments paled in comparison with his pride in having a happy marriage and family.
Mr. Hansen died Wednesday at Sunrise Senior Living in Bonita from complications of Parkinson's disease. He was 86.
'He never drank; he never smoked. He just concentrated on being the best husband and father, and he forged an incredible career,' said his son David Hansen of Paso Robles.
Mr. Hansen was born Nov. 5, 1921, in Bancroft, Idaho.
He served in the Navy from 1940 to 1945 and fought in eight major battles at sea. The ships that were sunk were the battleship California, the heavy cruiser Northampton and the aircraft carrier Hornet.
Mr. Hansen met Iris Rose Heyden while on survivor's leave in Chicago. The couple wed April 21, 1945, and remained together until her death in 1993.
Mr. Hansen retired from the Navy at the rank of chief petty officer. He then attended the Illinois Institute of Technology, where he received a bachelor's degree in electrical engineering in 1948.
After working for several years at Douglas Aircraft Co., he came to San Diego in 1960 to join Convair as its chief engineer for design. He rose to become a vice president who oversaw all Convair Launch Vehicles and the Atlas/Centaur rocket-booster project, a major element of the United States'early space program.
In 1968, Mr. Hansen was chosen to work as assistant secretary of the Air Force for research and development. While at the Pentagon, he helped manage the F-111 and C-5A aircraft programs, served as a delegate to the North Atlantic Treaty Organization and held a top intelligence-gathering post.
Mr. Hansen returned to the General Dynamics family in 1973. He later became president of the computer company Systems Development Corp. and retired in 1986, when the business was known as Unisys.
Outside the office, Mr. Hansen enjoyed taking his children on go-carting trips. On many weekends, he brought the youngsters to the General Dynamics parking lot and helped them launch model rockets.
'He was such a dedicated dad that he was leader of my (YMCA) Indian Guides troop and volunteered with the Cub Scouts,' David Hansen said.
Mr. Hansen also is survived by his sons Alan of Sterling, Va., and Brian of Santee, and his daughters, Carol of Haymarket, Va., and Ellen of La Mesa. He and his wife raised their eldest grandson, Jeremy, and they had 11 other grandchildren and seven great-grandchildren.
Services will be held at 10 a.m. Monday at Skyline Church, 11330 Campo Road, La Mesa. Contributions can be made to the Parkinson's Disease Association of San Diego.
---
---
Family
:
Astronaut
.
Country
:
USA
.
Bibliography
:
4460
,
4475
,
5487
.
---
---
1921 November 5 -
.
Birth of Grant Lewis Hansen. - . Related Persons: Hansen. American engineer, aerospace manager who played key roles in development of the Thor and Centaur rockets..
---
2008 October 8 -
.
Death of Grant Lewis Hansen. - . Related Persons: Hansen. American engineer, aerospace manager who played key roles in development of the Thor and Centaur rockets..
---
---
Back to top of page
---
Home - Search - Browse - Alphabetic Index: 0- 1- 2- 3- 4- 5- 6- 7- 8- 9
A- B- C- D- E- F- G- H- I- J- K- L- M- N- O- P- Q- R- S- T- U- V- W- X- Y- Z
---
© 1997-2021 Mark Wade - Contact
© / Conditions for Use
---