Home - Search - Browse - Alphabetic Index: 0- 1- 2- 3- 4- 5- 6- 7- 8- 9
A- B- C- D- E- F- G- H- I- J- K- L- M- N- O- P- Q- R- S- T- U- V- W- X- Y- Z
---
Goering, Hermann
---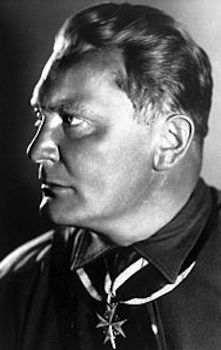 Goering
Goering, Hermann

German officer. Fighter ace in the WW1; Hitler's Luftwaffe commander. Supported quantum advances in aerospace, and fielded V-1 cruise missile, Me-262 jet, Me-163 rocket fighters. Funded Saenger rocket and ramjet work at Trauen.

Born: 1893-01-12. Died: 1946-10-15.

Fighter pilot in the first World War; National Socialist politician, general field marshal and commander-in-chief of the Luftwaffe. Goering was supportive of the development of rocketry but was unable to wrest control of Von Braun and the Peenemuende team from the German Army. The Luftwaffe made great strides in development of rocket propulsion independently with Saenger's team, but none of this resulted in a weapon that could be fielded before the end of the war.
---
---
Country: Germany. Agency: Luftwaffe. Bibliography: 394, 5443.
---
---
1944 October 30 - . Launch Site: Peenemuende. Launch Complex: Peenemuende. Launch Vehicle: Wasserfall.
Wasserfall test - . Nation: Germany. Related Persons: Dornberger, Goering. Apogee: 18 km (11 mi). Range: 26 km (16 mi).

The Wasserfall surface to air missile was launched from a table, as was the V-2. The missile was optically steered to its target, and had a potential range of 26 km and ceiling of 18 km, with a flight speed of 600 m/s. Goering observed the first launch from Test Stand IX. He was immensely fat, wearing a fantastical outfit, downing pills every five minutes, and uninterested in the proceedings. Dornberger ruefully noted that the Reich is losing the war due to the leadership's shortsightedness. They had not accepted Von Braun's rocket plans in 1939 or the Panzerfaust in 1942. They only became interested in the latter when the first American bazooka fell into German hands in Tunisia.
---
---
Home - Search - Browse - Alphabetic Index: 0- 1- 2- 3- 4- 5- 6- 7- 8- 9
A- B- C- D- E- F- G- H- I- J- K- L- M- N- O- P- Q- R- S- T- U- V- W- X- Y- Z
---
© 1997-2017 Mark Wade - Contact
© / Conditions for Use
---