Home - Search - Browse - Alphabetic Index: 0- 1- 2- 3- 4- 5- 6- 7- 8- 9
A- B- C- D- E- F- G- H- I- J- K- L- M- N- O- P- Q- R- S- T- U- V- W- X- Y- Z
---
GE Life Raft
---
Part of Rescue
---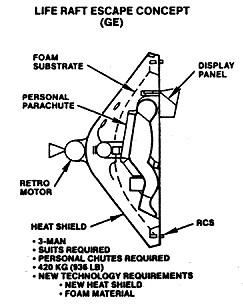 GE Life Raft
General Electric Life Raft 3-crew orbital escape system of the 1960's
American manned rescue spacecraft. Study 1966. The GE Life raft was a rigid unpressurized aeroshell. Three crew in space suits with parachutes would strap themselves into the seats.
AKA: General Electric Life Raft. Status: Study 1966. Gross mass: 420 kg (920 lb). Height: 1.80 m (5.90 ft). Span: 3.00 m (9.80 ft).
A headup display was provided for manually aligning the raft for retrofire, which was accomplished using a cold gas reaction control system. The aeroshell itself consisted of new non-ablative materials with a foam core. Mass per crew: 80 kg.
Crew Size: 3.
---
---
Family
:
Space station orbit
.
Country
:
USA
.
Propellants
:
Solid
.
Agency
:
GE
.
Bibliography
:
419
.
---
---
Back to top of page
---
Home - Search - Browse - Alphabetic Index: 0- 1- 2- 3- 4- 5- 6- 7- 8- 9
A- B- C- D- E- F- G- H- I- J- K- L- M- N- O- P- Q- R- S- T- U- V- W- X- Y- Z
---
© 1997-2019 Mark Wade - Contact
© / Conditions for Use
---