Home - Search - Browse - Alphabetic Index: 0- 1- 2- 3- 4- 5- 6- 7- 8- 9
A- B- C- D- E- F- G- H- I- J- K- L- M- N- O- P- Q- R- S- T- U- V- W- X- Y- Z
---
Gardner, Philip T
---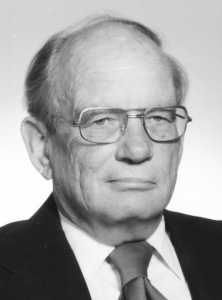 Gardner Philip
Credit: via Richard Martin
American engineer. Manager of test laboratories for the Atlas program.
Born: 1918-07-15. Died: 2013-09-21. Birth Place: Los Angeles, California.
Gardner, the son of a radio cabinet finisher and an apartment building manager, attended both UCLA and the UC Berkeley, graduating in mechanical engineering in 1940. He worked in an oil tool business, then at Lockheed until 1944. This was followed by two years of wartime Coast Guard service in the Pacific aboard ammunition transports. He joined Vultee's thermodynamics group after returning to civilian life, working on heat exchanger installation design for nuclear-powered aircraft. He started work on the Atlas program in 1953 as a Senior Thermodynamics Engineer, concentrating on design of the Sycamore Canyon and Edwards captive firing test facilities. This led to him becoming Manager of the Sycamore Canyon facility, then Convair Manager at Vandenberg, and finally Convair's Manager of Test Laboratories, including the Point Loma and Sycamore facilities. Gardner left the Atlas program and worked on satellite launch planning for two years before his retirement in 1979.
Philip T. Gardner 1918 - 2013 | Obituary | LA JOLLA -- Philip T. Gardner, a long-time resident of La Jolla, California and Bend, Oregon, passed away on Saturday, September 21, 2013 at the age of 95 years old. His wife of 62 years, Mary, died in 2009. He is survived by his sons, Phil Gardner of Houston, Texas and Bruce Gardner of June Lake, California. Mr. Gardner was born in Los Angeles on July 15, 1918 to Frank and Ethel Gardner and was raised there graduating from Belmont High School at 16 years old. He remained in Los Angeles through 1944 only leaving to attend University of California at Berkeley where he received a Bachelor's degree in Mechanical Engineering in 1940. After graduation, he returned to Los Angeles working for the National Supply Company where he designed equipment and tools used in the drilling of oil and gas wells. He subsequently worked for the Lockheed Aircraft Corporation as an aircraft design engineer. Mr. Gardner joined the Merchant Marine during WWII, shipping out in the Pacific and Indian Oceans as an engineering officer. He returned to Los Angeles after the war and began his 34 year engineering and management career with the Consolidated Vultee Aircraft Corporation (later the Convair Division of General Dynamics). After transferring to Convair's San Diego operations in 1947, Mr. Gardner focused the majority of his energy and time in the development and testing of America's first intercontinental ballistic missile, the Atlas. Mr. Gardner retired to central Oregon in 1980 where he spent time mountain climbing, fishing, hunting, skiing and extensively traveling throughout France with his wife. He lived a full and vigorous life. Published in The San Diego Union Tribune from Oct. 6 to Oct. 12, 2013
---
---
Country
:
USA
.
Bibliography
:
4460
,
4475
.
---
---
1918 July 15 -
.
Birth of Philip T Gardner - . Nation: USA. Related Persons: Gardner, Philip. American engineer. Manager of test laboratories for the Atlas program..
---
2013 September 21 -
.
Death of Philip T Gardner. - . Related Persons: Gardner, Philip. American engineer. Manager of test laboratories for the Atlas program..
---
---
Back to top of page
---
Home - Search - Browse - Alphabetic Index: 0- 1- 2- 3- 4- 5- 6- 7- 8- 9
A- B- C- D- E- F- G- H- I- J- K- L- M- N- O- P- Q- R- S- T- U- V- W- X- Y- Z
---
© 1997-2019 Mark Wade - Contact
© / Conditions for Use
---