Home - Search - Browse - Alphabetic Index: 0- 1- 2- 3- 4- 5- 6- 7- 8- 9
A- B- C- D- E- F- G- H- I- J- K- L- M- N- O- P- Q- R- S- T- U- V- W- X- Y- Z
---
Galaxy space station module
---
Part of Bigelow
---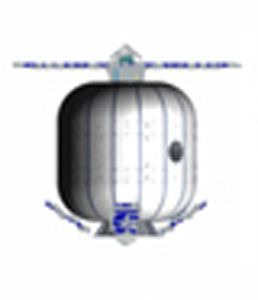 Galaxy
Credit: Manufacturer Image
The Galaxy subscale space station module was scheduled to fly in 2008. It would be twice as large as its Genesis predecessors and represent a 50% scale model of the Sundancer manned inflatable space station.
AKA: Galaxy. Status: Cancelled 2008. Gross mass: 3,000 kg (6,600 lb). Height: 6.80 m (22.30 ft). Diameter: 2.20 m (7.20 ft).
It would replace two flights of the Guardian module earlier planned.
The flight would test the operational life support system that would provide a nitrogen/oxygen atmosphere to occupants of the full-sized station. The internal structural arrangement (central hardened spine, internal longerons, solar arrays, and attitude control system) would all be more representative of the operational system.
Habitable Volume: 30.00 m3.
---
---
Family
:
Space station orbit
,
Technology
,
Technology satellite
.
Country
:
USA
.
Agency
:
Bigelow
.
---
---
Back to top of page
---
Home - Search - Browse - Alphabetic Index: 0- 1- 2- 3- 4- 5- 6- 7- 8- 9
A- B- C- D- E- F- G- H- I- J- K- L- M- N- O- P- Q- R- S- T- U- V- W- X- Y- Z
---
© 1997-2019 Mark Wade - Contact
© / Conditions for Use
---