Home - Search - Browse - Alphabetic Index: 0- 1- 2- 3- 4- 5- 6- 7- 8- 9
A- B- C- D- E- F- G- H- I- J- K- L- M- N- O- P- Q- R- S- T- U- V- W- X- Y- Z
---
Flax, Alexander H
---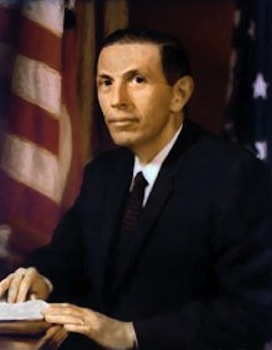 Flax
Flax, Alexander H

American engineer. Worked at Curtiss 1940-1944; Piasecki 1944-1946; Cornell 1946-1955. Leading scientific positions at USAF 1955-1969.

Born: 1921-01-18. Died: 2014-06-30.

Alexander H. Flax was an aeronautical engineer--PhD. in physics, who worked in several important positions in universities and industry. He worked for Curtiss-Wright, 1940-1944; Piasecki Helicopter Corp, 1944-1946; and at Cornell University, 1946-55. He served in scientific positions with the U.S. Air Force, 1955-1969; as assistant secretary of the Air Force for research and development, 1963-1969. Thereafter he became vice president for research for the Institute for Defense Analysis.

Wikipedia: Alexander Henry Flax (January 18, 1921 – June 30, 2014) was the third Director of the National Reconnaissance Office. Flax was Director NRO as the second generation of imaging systems became operational and began to play a major role in United States intelligence during the Cold War. He advocated major growth in NRO funding and personnel. Flax oversaw the production of signals intelligence collectors from space and promoted the development of an electro-optical imaging system for U.S. reconnaissance satellites.
---
Obituary - Washington Post: FLAX ALEXANDER H. FLAX January 1921 ~ June 2014 Dr. Flax passed away on June 30, 2014 at age 93. He was born in Brooklyn NY, received B. Aero E. from NYU and Ph.D. in Physics from U of Buffalo. He enjoyed a long career in Aviation, Aerospace and Defense. His early employment included Curtis-Wright, Piasecki Helicopter Corporation (later acquired by Boeing) and Cornell Aeronautical Laboratory. He was US Air Force Chief Scientist and then Assistant Secretary for R&D under Presidents Kennedy and Johnson. He was the 3rd Director of the NRO and the President of the Institute for Defense Analysis. He was Home Secretary and then Senior Fellow of the National Academy of Engineering. He was a member of numerous government advisory boards, committees and panels and received Distinguished Service Medals from Air Force, DOD, NASA and DIA, The Von Karman Medal from AGARD-NATO, The Lawrence Sperry Award from AIAA, The Clifford Furnas Award from SUNY Buffalo and The General Thomas D. White USAF Space Trophy. He was a Wright Brothers Lecturer for AIAA and a Wilber and Orville Wright Lecturer for the Royal Aeronautical Society. He was an Honorary Fellow of the AIAA and was named Elder Statesman of Aviation by NAA and inducted into the Niagara Frontier Aviation Hall of Fame. Most recently, he received the Guggenheim Medal of ASME, AIAA, AHS and SAE: For outstanding contributions to aerospace engineering in aeroelasticity, unsteady aerodynamics and flight mechanics, and for exceptional leadership of engineering organizations including service to the U.S. Department of Defense. In his later years, Al Flax became interested in computers and pursued the A+ and Network+ certifications. He was a genius at repairing old hardware. He also continued to enjoy his "hobby" of writing out long differential and integral equations on any paper available including the blank areas in the "TV Guide" and scraps of cardboard. Al was predeceased by his wife of 60 years, Ida Leane Warren Flax and is survived by his daughter, Laurel Flax, his sister, Shirley Lazar, a brother in-law, Dr. Julian Warren, sisters-in-law, Annie (Smitty) Warren and Naomi Warren and many nieces and nephews. There will be a private memorial service at the Cosmos Club in Washington on Friday September 26. Memorial Donations may be made to NYU-Poly or University at Buffalo.Memorial Donations may be made to NYU-Poly or University at Buffalo.
---
---
Country: USA. Bibliography: 535.
---
---
Home - Search - Browse - Alphabetic Index: 0- 1- 2- 3- 4- 5- 6- 7- 8- 9
A- B- C- D- E- F- G- H- I- J- K- L- M- N- O- P- Q- R- S- T- U- V- W- X- Y- Z
---
© 1997-2017 Mark Wade - Contact
© / Conditions for Use
---