Home - Search - Browse - Alphabetic Index: 0- 1- 2- 3- 4- 5- 6- 7- 8- 9
A- B- C- D- E- F- G- H- I- J- K- L- M- N- O- P- Q- R- S- T- U- V- W- X- Y- Z
---
Flanigan, Peter M
---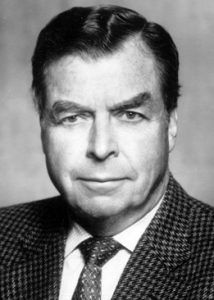 Flanigan
Credit: NASA

American businessman. A member of the White House staff involved in gaining approval for the shuttle program in 1969-1972. Investment banker, member of Council on Foreign Relations.

Born: 1923-06-21. Died: 2013-07-29.

Peter M. Flanigan was an assistant to the President on the White House staff, 1969-1974. Previously he had been involved in investment banking with Dillon, Read, and Co. He returned to business when he left government service. His position in the White House involved him in efforts to gain approval to build the Space Shuttle in the 1969-1972 period.

Obituary: New York Times: FLANIGAN--Peter M. June 21, 1923 - July 29, 2013. Mr. Flanigan was a Navy carrier pilot in World War II. He graduated Summa Cum Laude from Princeton University in 1947 and joined Dillon, Read & Co. Inc. in the fall of that year. His tenure at Dillon Read was interrupted in 1949 to serve as an economic analyst for the Economic Reconstruction Administration in Britain for two years, returning thereafter to Dillon Read. In 1960 Mr. Flanigan served as Executive Director of Volunteers for the Nixon-Lodge Presidential campaign and in 1968 as Deputy Campaign Manager of the Nixon campaign. In 1969 Mr. Flanigan left Dillon Read upon his appointment as Assistant to the President of the United States under President Nixon, with White House responsibility for domestic commercial and economic matters. In 1972 he was also appointed Director of the Council of International Economic Policy, with responsibility for development and coordination of the Administration's international economic policy. Mr. Flanigan returned to Dillon Read as Managing Director at the beginning of 1975 and continued in that capacity until December 1992. In 1984, Peter Flanigan and his wife adopted the second class in the "I Have a Dream" Program, subsequently becoming a Board Member of that program. In 1985, Mr. Flanigan founded The Student Sponsor Partners, a private voucher program which combines tuition support with one-on-one mentoring. S/SP has helped over 5,000 inner-city high school students. Based on comparative graduation rates and college attendance rates, this program has been a dramatic success. In 1987, he started the Patrons Program to encourage individuals to take responsibility for inner-city Catholic grammar schools which were in danger of being closed for financial reasons. Mr. Flanigan was a Board member of St. Ann's School in Harlem, a small grammar school with 315 students. Upon his death, Mr. Flanigan was Board Member of American Federation for Children - Alliance for School Choice, a nation-wide organization to promote legislation to give parents the ability to send their children to the schools, public or private, of their choice. To research and implement new programs to improve education, Mr. Flanigan founded the Center for Education Innovation of The Manhattan Institute. He was a Board member of the Catholic University of America, and previous Chairman of the Board of Portsmouth Abbey School. Mr. Flanigan was also a member of the Board of Trustees of the John M. Olin Foundation, Inc. and a member of the Board of the Richard M. Nixon Library & Birthplace. In 1954, Mr. Flanigan married Brigid Snow, daughter of the legendary Carmel Snow who was founding editor of Harpers Bazaar, a position she held for 23 years, and grand niece of the equally legendary Bishop McQuade of Dublin, known to his flock as the Holy Terror. His wife, Brigid, passed away in 2006. Brigid and Peter's five children include Sister Louise Marie of the Sister Servants of the Eternal Word. His other children, Brigid, Tim, Megan and Bob are the parents of Peter's 16 grandchildren. Five years ago, Peter was blessed by his marriage to Dorothea von Oswald. He lived half of the year in Austria with Dorothea and her five daughters Maido, Theresa, Mariella, Sophie and Nina.
---
---
Country: USA. Bibliography: 535, 5389.
---
---
Home - Search - Browse - Alphabetic Index: 0- 1- 2- 3- 4- 5- 6- 7- 8- 9
A- B- C- D- E- F- G- H- I- J- K- L- M- N- O- P- Q- R- S- T- U- V- W- X- Y- Z
---
© 1997-2017 Mark Wade - Contact
© / Conditions for Use
---