Home - Search - Browse - Alphabetic Index: 0- 1- 2- 3- 4- 5- 6- 7- 8- 9
A- B- C- D- E- F- G- H- I- J- K- L- M- N- O- P- Q- R- S- T- U- V- W- X- Y- Z
---
Fichtner, Hans Joachim Oskar
---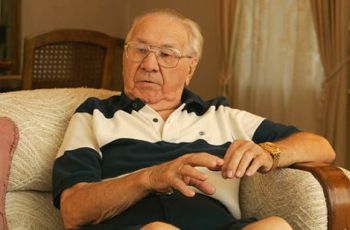 Fichtner
Fichtner, Hans Joachim Oskar
German engineer in WW2, member of the Rocket Team in the United States thereafter.
Born: 1917-09-08. Died: 2012-10-21. Birth Place: Leipzig.
German expert in guided missiles during World War II. Member of the German rocket team, arrived in America under Project Paperclip on 16 November 1945 aboard the Argentina from La Havre. Worked his entire life with the rocket team, at Fort Bliss, White Stands, and then at Huntsville. As of 1960, Head of Electrical Systems Integration Branch, Guidance and Control Division, NASA Marshall Space Flight Center. Still living in Huntsville, Alabama in 2004.
Wikipedia: Hans Joachim Oskar Fichtner (September 8, 1917 — October 21, 2012) was a rocket scientist who worked on V-2 rockets for Wernher von Braun at Peenemünde from 1939 to 1945. He was among the scientists to surrender and travel to the United States to provide rocketry expertise via Operation Paperclip which took them first to Fort Bliss, Texas (1945–1949). He continued his work with the team when they moved to Redstone Arsenal, and he joined Marshall Space Flight Center to work for NASA.
In a personal letter to a space aficionado, Fichtner wrote, "I worked at Peenemünde to design the control system of the A4. Later I laid out the electrical system for the V-2 ground and airborne. Arrived at the States with the 55 specialists Nov 17, 45, designed the electrical system for all White Sands V-2 launches in the first 1 1/2 years. Did all the electrical systems design for Redstone, Mercury-Redstone, Jupiter, Pershing missile. Was totally responsible for the entire ground and airborne electrical systems for the Apollo 100, 200 series, all Saturn V firings and Skylab after Apollo project. Was Chief engineer for the satellite series high energy astronomy observatory (HEAO). Worked as a consultant for the layout of the Spacelab. Electrical system with ESA in the Netherlands 1975/76. Introduced the automated, computerized checkout and firing sequence during the Saturn/Apollo program".
---
Obituary: HUNTSVILLE, Alabama -- Graveside services will be Saturday in Huntsville for Hans Joachim Fichtner, an original member of Dr. Wernher von Braun's rocket team that built the Saturn V moon rocket. Fichtner, 95, died in Huntsville Sunday.
Fichtner was drafted into the German Army during World War II and was with von Braun in Germany when von Braun's team used forced prisoner labor to make V-2 rockets launched against Britain. Later, he surrendered with von Braun to the United States as a part of the famous rocket team code-named "Paperclip" by American authorities.
Once in America, Fichtner came with the team to Huntsville, where von Braun led development of the rockets that launched America's first satellites -- and later its world-famous astronauts -- into space. Fichtner's job was among the most critical. He oversaw Marshall Space Flight Center's development of the electrical system for the Saturn V moon rocket. Fichtner also developed the automated check-out system that allowed the miles of complex electronics to check themselves before each launch.
Fichtner declined to take much credit, even as a member of the original team, for the success of the American space program. He told The Huntsville Times in 2008 that everyone working for Marshall during that time shares the achievements. "We were one team. Marshall, period," he said. "Forget about the von Braun team and all that. We were the team at Marshall that worked together to get that thing done."
Fichtner is the second "Paperclip" team member to die this fall. Rudolf Schlidt died in late September at age 98. Fichtner is survived by two daughters, Sigrid Scott of Carrollton, Ga., and Monica Bell of Huntsville, three grandchildren and six great-grandchildren.
---
---
Country
:
Germany
,
USA
.
Bibliography
:
1980
,
5378
.
---
---
1917 September 8 -
.
---
2012 October 21 -
.
Death of Hans Joachim Oskar Fichtner. - . Related Persons: Fichtner. German engineer in WW2, member of the Rocket Team in the United States thereafter..
---
---
Back to top of page
---
Home - Search - Browse - Alphabetic Index: 0- 1- 2- 3- 4- 5- 6- 7- 8- 9
A- B- C- D- E- F- G- H- I- J- K- L- M- N- O- P- Q- R- S- T- U- V- W- X- Y- Z
---
© 1997-2019 Mark Wade - Contact
© / Conditions for Use
---