Home - Search - Browse - Alphabetic Index: 0- 1- 2- 3- 4- 5- 6- 7- 8- 9
A- B- C- D- E- F- G- H- I- J- K- L- M- N- O- P- Q- R- S- T- U- V- W- X- Y- Z
---
ESA ACRV
---
Part of Rescue
---
---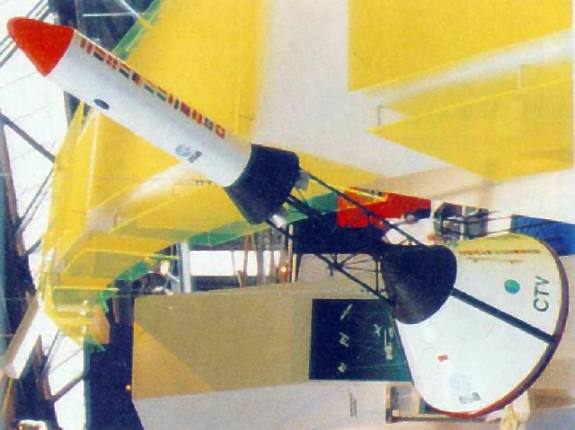 ESA ACRV
ESA Crew Rescue Vehicle Studies.
Credit: ESA via Marcus Lindroos
---
European manned spacecraft. Study 1992. As Hermes gradually faded into oblivion, the European Space Agency started to take a closer a look at cheaper and less complicated manned space capsules.
Status: Study 1992.
An 'Ariane-X' crew rescue capsule was part of the preliminary European space station studies in the late 1980s, and the French and Italian aerospace industry also investigated unmanned concepts such as the 'Carina' version in 1990. 'Carina' was to have a diameter of 4 meters and would be launched on the Ariane-4 rocket. Its main mission was commercial microgravity experiments. The European Space Agency started a six-month Phase 1 'Assured Crew Return Vehicle' study in October 1992. Aerospatiale, Alenia Spazio and Deutsche Aerospace were prime contractors. In June 1993, the European Space Agency announced that a simpler manned space capsule would replace the Hermes manned spaceplane project.
The ACRV team investigated several concepts.
The favored ACRV would have carried a crew of eight astronauts inside a larger version of the old US 'Apollo' capsule from the 1960s. A cylindrical section in front contained rocket engines, power systems and a docking tunnel. It would be jettisoned shortly before the capsule re-entered the Earth's atmosphere. The capsule would land using parachutes and air bags.
The 'blunt biconic' design was briefly investigated during the follow-on crew rescue/transfer vehicle studies in 1993-94. It would re-enter the atmosphere nose-end first and have better maneuverability (lift/drag ratio of 0.55 vs. 0.3 for the ACRV Apollo design) and thus better landing accuracy. But the Blunt Biconic design would also have been heavier and more expensive than the other configurations.
ESA's conical 'Viking' capsule would have re-entered base-first like the Apollo design, but its aerodynamic shape had a slightly better lift-to-drag ratio of 0.4. 'Viking' was investigated concurrently with the Apollo-derived ACRV capsule during Phase 1 in 1992-93 and definition work continued until March 1995 when the Phase 1 study ended. Viking would use a cylindrical propulsion module derived from the Ariane Transfer Vehicle.
ESA cancelled the $1.7-billion ACRV project in late 1995 but still awarded a $66-million two year study contract to appease the French. The project's only direct legacy was the $60-million experimental sub-scale 'Atmospheric Re-entry Demonstrator' capsule which flew successfully in 1997. But the European Space Agency instead decided to join the American X-38 Crew Rescue Project, after the CRV Phase A study was completed in May 1996.
Article by Marcus Lindroos
---
---
Family
:
Manned spacecraft
,
USA - Space Stations
.
Country
:
Europe
.
Launch Vehicles
:
Ariane 5
,
Ariane 5G
.
Agency
:
ESA
,
Cannes
,
Alenia
.
---
Photo Gallery
---
---
Carina
ESA Crew Rescue Vehicle Studies. The CARINA microgravity capsule.
Credit: ESA via Marcus Lindroos
---
---
ESA CRV
ESA Crew Rescue Vehicle Studies. Apollo-type Assured Crew Return Vehicle (1993). The ACRV team initially investigated two concepts, including the design shown here. The cylindrical section in front contains rocket engines, power systems and a docking tunnel. It would be jettisoned shortly before the capsule re-enters the Earth's atmosphere.
Credit: ESA via Marcus Lindroos
---
---
ESA Biconic CRV
ESA Biconic Crew Rescue Vehicle. "Blunt Biconic" Crew Rescue Vehicle. The "blunt biconic" design shown here was briefly investigated during the follow-on crew rescue/transfer vehicle studies in 1993-94.
Credit: ESA via Marcus Lindroos
---
---
ESA ACRV
Credit: ESA via Marcus Lindroos
---
---
ESA Viking CRV
ESA Viking Crew Rescue Vehicle. "Viking" Crew Rescue Vehicle (1994).
Credit: ESA via Marcus Lindroos
---
---
ESA Viking CRV
ESA Viking Crew Rescue Vehicle. "Viking" Crew Rescue Vehicle (1996). The version shown here would use a cylindrical propulsion module derived from the Ariane Transfer Vehicle.
Credit: ESA via Marcus Lindroos
---
---
---
Back to top of page
---
Home - Search - Browse - Alphabetic Index: 0- 1- 2- 3- 4- 5- 6- 7- 8- 9
A- B- C- D- E- F- G- H- I- J- K- L- M- N- O- P- Q- R- S- T- U- V- W- X- Y- Z
---
© 1997-2019 Mark Wade - Contact
© / Conditions for Use
---