Home - Search - Browse - Alphabetic Index: 0- 1- 2- 3- 4- 5- 6- 7- 8- 9
A- B- C- D- E- F- G- H- I- J- K- L- M- N- O- P- Q- R- S- T- U- V- W- X- Y- Z
---
Ekol
---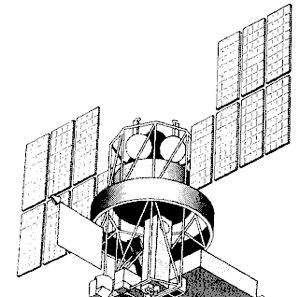 Ekol
Credit: USAF Phillips Laboratory
Russian earth atmosphere satellite. Study 1992. The Lavochkin NPO designed a variety of remote sensing spacecraft based on a new 3-axis controlled satellite bus.
Status: Study 1992. Gross mass: 3,500 kg (7,700 lb).
5-metric-ton, 4-kW satellite bus named Freight which could be launched from the Baikonur Cosmodrome on converted SS-18 ICBM's. The two principal remote sensing versions of Freight (other variants could support technological, materials science, and biological science experiments) were EKOL and Ozone. The configuration of the 5.2-metric-ton EKOL varied. Potential payloads included SAR (30- 100 m resolutions) and multi-spectral (0.4-10.3 micrometer with 5-10 m resolution) instruments. Ozone would carry a lidar (0.8 m diameter mirror) at altitudes of 600-900 km to study ozone concentrations as part of its 5-metric-ton mass.
---
---
Family
:
Atmosphere sat
,
Earth
.
Country
:
Russia
.
Launch Vehicles
:
R-36M 15A14
,
R-36M2 15A18M
.
Agency
:
Lavochkin bureau
.
---
---
Back to top of page
---
Home - Search - Browse - Alphabetic Index: 0- 1- 2- 3- 4- 5- 6- 7- 8- 9
A- B- C- D- E- F- G- H- I- J- K- L- M- N- O- P- Q- R- S- T- U- V- W- X- Y- Z
---
© 1997-2019 Mark Wade - Contact
© / Conditions for Use
---