Home - Search - Browse - Alphabetic Index: 0- 1- 2- 3- 4- 5- 6- 7- 8- 9
A- B- C- D- E- F- G- H- I- J- K- L- M- N- O- P- Q- R- S- T- U- V- W- X- Y- Z
---
Early Soviet Lunar Lander
---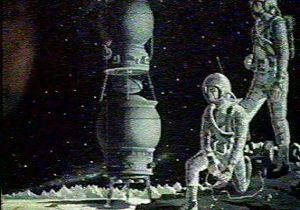 Early Soviet lander
The earliest Soviet designs for lunar landers were similar to those of Von Braun in the 1950's.
Credit: RKK Energia

Russian manned lunar lander. Study 1958. Painting of early Soviet concept of a lunar lander. This was similar to Von Braun designs popular in the 1950's.

Status: Study 1958.

Similar designs were used in the 1957 film, Road to the Stars, for which Tikhonravov was the technical adviser.
---
---
Family: Lunar Landers, Moon. Country: Russia. Agency: Korolev bureau.
---
Photo Gallery
---
---
Soviet Moon Lander
Wreck of first attempted landing of a Soviet spacecraft on the moon, from the film 'Countdown'
---
---
Soviet Moon Lander
Dead crew member in a hatch of the wreck of the first attempted landing of a Soviet spacecraft on the moon, from the film 'Countdown'
---
---
Soviet Moon Lander
Wreck of first attempted landing of a Soviet spacecraft on the moon, from the film 'Countdown'
---
---
Soviet Moon Lander
The first man on the moon - a Soviet, dead on the surface a little way from the wreck of his lunar lander, from the film 'Countdown'
---
---
---
Home - Search - Browse - Alphabetic Index: 0- 1- 2- 3- 4- 5- 6- 7- 8- 9
A- B- C- D- E- F- G- H- I- J- K- L- M- N- O- P- Q- R- S- T- U- V- W- X- Y- Z
---
© 1997-2017 Mark Wade - Contact
© / Conditions for Use
---