Home - Search - Browse - Alphabetic Index: 0- 1- 2- 3- 4- 5- 6- 7- 8- 9
A- B- C- D- E- F- G- H- I- J- K- L- M- N- O- P- Q- R- S- T- U- V- W- X- Y- Z
---
Durant, Frederick C III
---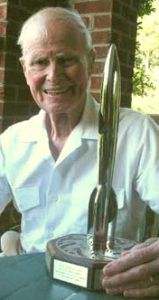 Durant
Credit: NASA

American writer and space exploration advocate. Engineer at Bell and several government laboratories 1945-1965; Director of Astronautics at NASM; President ARS and IAF 1953-1956; author of several works on space history.

Born: 1916-12-31.

Frederick C. Durant III was heavily involved in rocketry in the United States during the period between the end of World War II and the mid-1960s. He worked for several different aerospace organizations, including Bell Aircraft Corp.; Everett Research Lab; the Naval Air Rocket Test Station; and the Maynard Ordnance Test Station. He later became the director of astronautics for the National Air and Space Museum, Smithsonian Institution. In addition, he was an officer in several spaceflight organizations. These included the American Rocket Society (president 1953); International Astronautical Federation (president 1953-1956); and National Space Club (governor 1961).

Biography: Frederick Clark Durant, III was a 1939 alumnus of the Lehigh University engineering college. After graduating from Lehigh, he took a job with E.I. du Pont de Nemours & Co until the outbreak of World War II. He enlisted in the navy and was a part of the pilot training program.

His naval experience during the war prompted him to become involved in rocketry while working at Bell Aircraft Corp. from 1946-47. From 1948-51, he was the director of engineering for the Naval Air Rocket Test Station. In 1951, when the United States was fighting in the Korean War, Durant returned to service as a test pilot. Durant also spent some time working in the Everett Research Lab and the Maynard Ordnance Test Station. In 1953, he was elected president of the American Rocket Society and was a space analyst for the Central Intelligence Agency. Durant was part of the group that attempted to put the first U.S. satellite into orbit. Led by Wernher von Braun, the team developed a concept called Project Orbiter, which later served as the foundation of the successful Explorer I mission launched on 31 January 1958.

The National Air and Space Museum in Washington, DC hired Durant in 1964 to bring the Smithsonian into the space age. He became assistant director and head of the new Astronautics Department and is responsible for making the Museum the official repository for all flown NASA hardware. Numerous satellites, spacecraft, space suits, and other space paraphernalia were collected during his tenure as director. He retired from the Smithsonian in 1980.

Durant was a Fellow of the American Institute of Aeronautics and Astronautics, as well as a patron of the Arthur C. Clarke Foundation. He was the author or editor of a number of texts and the receipient of the Monroe J. Rathbone award from Lehigh University. Durant was also a passionate space art collector. In 1999, he presented 64 paintings from his personal collection to the Smithsonian for permanent display in their galleries. He lived in Raleigh, N.C.

Durant's wife was the late Carolyn "Pip" Durant.
---
---
Country: USA. Bibliography: 535.
---
---
Home - Search - Browse - Alphabetic Index: 0- 1- 2- 3- 4- 5- 6- 7- 8- 9
A- B- C- D- E- F- G- H- I- J- K- L- M- N- O- P- Q- R- S- T- U- V- W- X- Y- Z
---
© 1997-2017 Mark Wade - Contact
© / Conditions for Use
---