Home - Search - Browse - Alphabetic Index: 0- 1- 2- 3- 4- 5- 6- 7- 8- 9
A- B- C- D- E- F- G- H- I- J- K- L- M- N- O- P- Q- R- S- T- U- V- W- X- Y- Z
---
Dream Chaser
---
Part of HL-20
---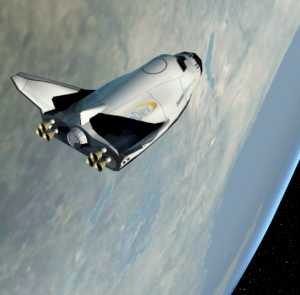 Dream Chaser
American manned spaceplane. A six-passenger human space transport system announced in 2006 by SpaceDev, based on the ten-passenger HL-20 Personnel Launch System developed by NASA Langley in the 1980's.
Status: In development 2016. Gross mass: 9,000 kg (19,800 lb). Height: 9.00 m (29.50 ft). Span: 7.00 m (22.90 ft).
Dream Chaser was to service the commercial space tourism market, and provide NASA with routine, safe and affordable crew access to the International Space Station after the retirement of the shuttle in 2010.
For the suborbital space tourism market, Dream Chaser would be powered by a hybrid SpaceDev rocket motor of the kind used to power SpaceShip One. The spacecraft would have the same dimensions and shape as the HL-20, but be lighter, with six crew instead of ten, which would improve its handling qualities.
SpaceDev unveiled its plans for Dream Chaser, a suborbital RLV modeled after NASA's X-34, in September 2004. However, in November 2005 the company released a completely new design for the vehicle, incorporating an orbital flight capability for ISS crew transport while retaining the ability to perform suborbital flights. The new design had a relatively long history, as it was based on the NASA HL-20 spaceplane concept from the early 1990s, which was itself inspired by the successfully launched Soviet BOR-4 spaceplane from the early 1980s. Dream Chaser kept the overall length of 8.84 m and span across the wing tips of 7.16 m of the HL-20, but decreased the number of passengers from 10 to 6 and reduced the mass to below 10,000 kilograms .
Dream Chaser was designed to both serve the suborbital tourism market and provide commercial ISS crew transfer. The spacecraft would use internal hybrid rocket motors for suborbital flights, and launch on the side of three large hybrid boosters to reach orbit. SpaceDev was seeking funding to develop Dream Chaser, and could begin suborbital test flights of the vehicle as early as 2008.
Crew Size: 6. Habitable Volume: 16.00 m3.
---
---
Family
:
New Space Tourism
,
Space station orbit
,
Spaceplane
,
US Rocketplanes
.
Country
:
USA
.
Agency
:
NASA
,
SpaceDev
.
Bibliography
:
6457
.
---
Photo Gallery
---
---
Dream Chaser
Credit: Manufacturer Image
---
---
---
Back to top of page
---
Home - Search - Browse - Alphabetic Index: 0- 1- 2- 3- 4- 5- 6- 7- 8- 9
A- B- C- D- E- F- G- H- I- J- K- L- M- N- O- P- Q- R- S- T- U- V- W- X- Y- Z
---
© 1997-2019 Mark Wade - Contact
© / Conditions for Use
---