Home - Search - Browse - Alphabetic Index: 0- 1- 2- 3- 4- 5- 6- 7- 8- 9
A- B- C- D- E- F- G- H- I- J- K- L- M- N- O- P- Q- R- S- T- U- V- W- X- Y- Z
---
Dorman, Bernhardt L
---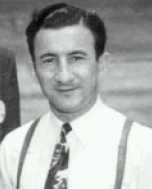 Dorman

American engineer. Key Aerojet employee, 1943-1972.

Born: 1907-07-30. Died: 1999-03-27. Birth Place: Illinois.

Dorman was born in Chicago, Illinois, the son of a Lithuanian laundry owner and Polish mother. He graduated from college as a mechanical engineer, first working in 1930 for an automotive carburetor company in Flint, Michigan. By the second world war he had a comfortable engineering job at International Harvester in Chicago when he heard of a rocket company being formed in California. He joined Aerojet as chief test engineer on 25 June 1943. He became a key employee, leaving for a while in the 1960's to work for NASA, but returning to Aerojet in his last 30 years to manage its real estate holdings, and document its history.
---
---
Country: USA. Bibliography: 4460, 4475.
---
---
1907 July 30 - .
---
1999 March 27 - .
---
---
Home - Search - Browse - Alphabetic Index: 0- 1- 2- 3- 4- 5- 6- 7- 8- 9
A- B- C- D- E- F- G- H- I- J- K- L- M- N- O- P- Q- R- S- T- U- V- W- X- Y- Z
---
© 1997-2017 Mark Wade - Contact
© / Conditions for Use
---