Home - Search - Browse - Alphabetic Index: 0- 1- 2- 3- 4- 5- 6- 7- 8- 9
A- B- C- D- E- F- G- H- I- J- K- L- M- N- O- P- Q- R- S- T- U- V- W- X- Y- Z
---
Deutch, John
---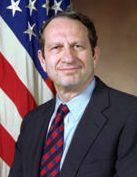 Deutch
Credit: NASA

American scientist, served as Deputy Secretary of Defense from 1994-1995; Director of Central Intelligence from 1995-1997. Doctorate from MIT and also served as that school's dean of science and provost.

Born: 1938-07-27.

Wikipedia: John Mark Deutch (born July 27, 1938) is an American physical chemist and civil servant. He was the United States Deputy Secretary of Defense from 1994 to 1995 and Director of Central Intelligence (DCI) from May 10, 1995 until December 15, 1996. He is an Institute Professor at the Massachusetts Institute of Technology and serves on the Board of Directors of Citigroup, Cummins, Raytheon, and Schlumberger Ltd. Deutch is also a member of the Trilateral Commission.

Deutch was born in Brussels, Belgium, the son of Rachel Felicia (Fischer) and Michael Joseph Deutch. He is of Russian Jewish heritage, and became a United States citizen in 1945. He graduated from the Sidwell Friends School in Washington, D.C. and earned a bachelor's degree in History and Economics from Amherst College. In 1961, he earned a Bachelor of Science degree in Chemical Engineering and, in 1966, he earned a PhD in Chemistry, both from Massachusetts Institute of Technology. He holds honorary degrees from Amherst College, University of Massachusetts Lowell, and Northeastern University.

From 1977 to 1980, he served in several positions for the United States Department of Energy (DOE): as Director of Energy Research, Acting Assistant Secretary for Energy Technology, and Undersecretary of the Department. In 1978, Deutch published two physical-chemistry papers (in, Combustion and Flame, 1978, vol 231 pp. 215–221 and 223-229) on modeling the mechanism of the Fuel/Air mixture. He served as the provost of MIT from 1985 - 1990. As MIT Dean of Science and Provost, Deutch oversaw the disbanding of the Department of Applied Biological Sciences, including its toxicology faculty.

In 1995, President Bill Clinton appointed him Director of Central Intelligence (cabinet rank in the Clinton administration). However, Deutch was initially reluctant to accept the appointment. As head of the Central Intelligence Agency (CIA), Deutch continued the policy of his predecessor R. James Woolsey to declassify records pertaining to U.S. covert operations during the Cold War.

On November 15, 1996, Deutch was at Locke High School in Los Angeles at a town hall meeting on the topic of drug dealing. He was visibly taken aback by the confrontational testimony from an LAPD narcotics officer, Michael Ruppert, that he had seen evidence of CIA complicity in drug dealing for a long time.

Deutch fell out of favor with the Clinton administration because of public testimony he gave to Congress on Iraq. Specifically Deutch testified that Saddam Hussein was stronger than he was four years ago and the CIA might never be able to remedy the issue. Clinton dismissed Deutch after he had won re-election.

Deutch left the CIA on December 15, 1996 and soon after it was revealed that several of his laptop computers contained classified materials designated as unclassified. In January 1997, the CIA began a formal security investigation of the matter. Senior management at CIA declined to fully pursue the security breach. Over two years after his departure, the matter was referred to the Department of Justice, where Attorney General Janet Reno declined prosecution. She did, however, recommend an investigation to determine whether Deutch should retain his security clearance. President Clinton pardoned Deutch on his last day in office.

Deutch was elected to the American Philosophical Society in 2007. He is a member of the National Petroleum Council since 2008 and the Secretary of DOE Energy Advisory Board, since 2010.
---
---
Country: USA. Bibliography: 535, 5321.
---
---
Home - Search - Browse - Alphabetic Index: 0- 1- 2- 3- 4- 5- 6- 7- 8- 9
A- B- C- D- E- F- G- H- I- J- K- L- M- N- O- P- Q- R- S- T- U- V- W- X- Y- Z
---
© 1997-2017 Mark Wade - Contact
© / Conditions for Use
---