Home - Search - Browse - Alphabetic Index: 0- 1- 2- 3- 4- 5- 6- 7- 8- 9
A- B- C- D- E- F- G- H- I- J- K- L- M- N- O- P- Q- R- S- T- U- V- W- X- Y- Z
---
Dal-M
---
Part of Dal Family
---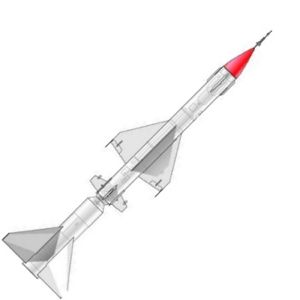 V-400
Credit: © Mark Wade

Russian surface-to-air missile. Planned improved version of the Dal high performance long-range surface-to-air missile developed 1959-1963. Cancelled together with basic the Dal system at the end of 1963.

AKA: V-420.

A decree of 4 July 1959 had called for development of the Dal-M system with the V-420 rocket. These would be developed in competition with the more radical Dal-2 with the V-500 rocket. Either system was to have a radar range of 500 to 600 km, and a missile range of 300 to 400 km against an Il-28 target. A new Raduga homing system would be developed by NII-17 for these missiles. Again alternate cruise stages were planned, either a Bondaryuk ramjet-powered stage or a solid propellant stage powered by a motor by OKB-16 Zuba. The requirement was that a 4000 kph target would have an 80 to 85% probability of being shot down at altitudes from 200 m up to 30 km. Planned trials of the alternate versions of the missile were to be conducted in 1962, of the complete missile system, in 1962, and the all-up missile, including warhead and tracking radars, by the second quarter of 1964. These plans were never realized due to the failure of the basic Dal system in development tests, and the consequent cancellation of the missile in December 1963.
---
---
Family: surface-to-air. Country: Russia. Agency: Lavochkin bureau.
---
---
Home - Search - Browse - Alphabetic Index: 0- 1- 2- 3- 4- 5- 6- 7- 8- 9
A- B- C- D- E- F- G- H- I- J- K- L- M- N- O- P- Q- R- S- T- U- V- W- X- Y- Z
---
© 1997-2017 Mark Wade - Contact
© / Conditions for Use
---