Home - Search - Browse - Alphabetic Index: 0- 1- 2- 3- 4- 5- 6- 7- 8- 9
A- B- C- D- E- F- G- H- I- J- K- L- M- N- O- P- Q- R- S- T- U- V- W- X- Y- Z
---
CX-1
---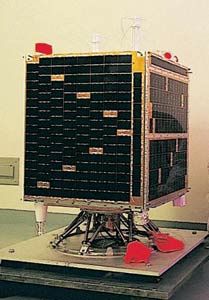 CX 1
Credit: Manufacturer Image

Chinese communications technology satellite. Communication satellite for CAS, China. Launched 2003-2014.

AKA: Chuang Xin. Status: Operational 2003. First Launch: 2003-10-21. Last Launch: 2014-09-04. Number: 4 . Gross mass: 88 kg (194 lb).

Chuang Xing 1 (Creation 1) was a store and forward communications microsatellite developed by the China Academy of Science, Shanghai Academy of Space Technology, and Shanghai Telecomm.

The environmental test model at the end of 1999. The flight model was to be finished in 2001 and launched as a piggyback payload aboard a Chinese booster.
---
More at: CX-1.
---
Family: Communications technology sat, Technology. Country: China. Launch Vehicles: Chang Zheng 2D, Chang Zheng 4B. Launch Sites: Jiuquan, Taiyuan, Taiyuan LC1. Agency: CAS. Bibliography: 424, 12197, 12198.
---
Photo Gallery
---
---
CX-1
Credit: Manufacturer Image
---
---
Chuanxin 1-03
Credit: Manufacturer Image
---
---
---
Home - Search - Browse - Alphabetic Index: 0- 1- 2- 3- 4- 5- 6- 7- 8- 9
A- B- C- D- E- F- G- H- I- J- K- L- M- N- O- P- Q- R- S- T- U- V- W- X- Y- Z
---
© 1997-2017 Mark Wade - Contact
© / Conditions for Use
---