Home - Search - Browse - Alphabetic Index: 0- 1- 2- 3- 4- 5- 6- 7- 8- 9
A- B- C- D- E- F- G- H- I- J- K- L- M- N- O- P- Q- R- S- T- U- V- W- X- Y- Z
---
Culbertson, Philip Edgar
---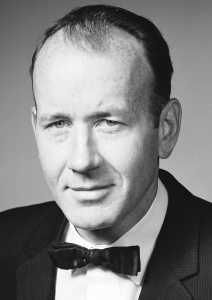 Culbertson Philip
Credit: via Richard Martin

American aerodynamicist. Managed development of the Atlas space launch version at Convair; then went to NASA, being General Manager at the time of the Challenger disaster.

Born: 1925-08-19. Died: 2015-04-04.

Culbertson studied aerodynamics at the University of Michigan, and continued on the research staff there after graduation. He came to Convair at Lindbergh Field in 1952, working as an aerodynamics consultant on the F-102 and F-106 interceptors for the corporate Vice President for Engineering. Culbertson returned to Michigan to complete his doctorate, then returned to Convair. He worked in Convair's Atlas ICBM program, and then was named head of the Atlas Launch Vehicle Program Office. Here he supervised conversion of the Atlas missile into a manned booster for the Mercury program, and as a deep-space launch vehicle through use of the Agena and Centaur upper stages. He retained this position until a management reorganization in 1963 made him head of Systems Engineering and Reliability for the Launch Vehicle Program. A year later, Culbertson headed the technical team for Convair's losing Manned Orbital Laboratory proposal to the Air Force.

Culbertson then left Convair and joined NASA in August 1965, being named head of the Advanced Manned Lunar Mission Studies Office at headquarters. By the end of the sixties it was clear Congress was not going to fund these post-Apollo plans, and in 1970 Culbertson was head of the Advanced Manned Missions Planning Group in the Office of Manned Space Flight. Here he worked on the Skylab and Apollo-Soyuz Test Programs. In 1979 he was named assistant for Space Transportation Systems in the office of the NASA Administrator. In November 1982 he was appointed an Associate Deputy Administrator of NASA, concentrating on planning and development of what would eventually become the International Space Station.

In December 1985 NASA Administrator James Beggs was indicted for fraud. NASA's nominal number two man, William Graham, , became acting chief of NASA, but had been working at the agency for only nine days. Culbertson was named to the new Agency post of General Manager in order to provide experienced day-to-day management. He was committed to carrying out the fast pace of shuttle launches dictated by Beggs to prove that the shuttle was the inexpensive, reliable, safe, and single national method of access to space. One month later, the shuttle Challenger exploded on the way to orbit, killing the crew and putting the entire American space program in crisis.

Following the investigation of the launch, the position of General Manager was "eliminated" and Culbertson was moved to head NASA's Planning and Policy office for a year until his retirement in 1988. Many saw Culbertson as the fall guy for politicians and other NASA managers who were much more culpable for the disaster. In the 1990's he was Senior Vice President of the External Tanks Corporation, which sought but failed to find commercial backing for creating space stations from the shuttle external tanks that were jettisoned on each mission.

Obituary: Philip Edgar Culbertson

August 19, 1925 - April 04, 2015 Melbourne, Florida

Philip Edgar Culbertson passed away in the early morning of April 4, 2015, after a long battle with complications of Alzheimer's disease. He had a long and illustrious career in the aerospace industry contributing in the fields of missile guidance systems, supersonic flight, and manned space flight.

He is survived by his daughter, Camden Gooch, of Viera, FL, her sons and their wives, Barry (Necia), Jonathan (Celeste), Michael (Mallory), and Andy (Ashley); and son, Philip Culbertson, Jr., his wife Anne, and their children, Casey and Leah, of West Linn, OR; as well as 11 great-grandchildren. He is preceded in death by his wife Shirley; his sister Jean; and his son-in-law Dr. Brent R. Gooch.

Philip (Phil) was born on August 19, 1925, to Julian and Lucia Culbertson in Pullman, Washington, where he spent his first 18 years with his family. Both of his parents were teachers; Lucia taught high school Greek and Latin, and Julian was the head of the Chemistry department at Washington State College, which later became Washington State University. His parents certainly passed on their academic ability to Phil, as he excelled in his early school years and attended college classes at WSC while still in high school. Upon graduation, Phil enlisted in the Navy initially intending to become a pilot. Those plans changed when World War II ended, and he chose to continue his education, earning his Bachelors degree in aeronautical engineering from Georgia Tech University. As a commissioned officer in the Navy, Phil began working on cutting edge missile guidance systems, foreshadowing his career in the space industry. After leaving the Navy, Phil spent four years as a research associate at the University of Michigan with a focus on designing and wind tunnel testing of advanced supersonic aircraft. It was there that he met Shirley Coskey, and after a whirlwind engagement they were married in 1950. A year later their first child, Camden, was born. With his Master of Science degree in aeronautical engineering in hand, he accepted a position at General Dynamics/Convair and the new family moved to San Diego, California. Their second child, Philip, Jr. (Cully) was born in 1954 and the family was complete.

Phil's 11 years at General Dynamics involved engineering and technical management positions including the conversion of the Atlas missile into a manned booster for the Mercury program and as a deep space launch vehicle. He became the principal liaison to NASA, and in 1965 was offered and accepted a position at NASA headquarters in Washington, DC, to begin work on the new Skylab program. Over his 23 year career at NASA, Phil held a multitude of titles and responsibilities covering all of the manned mission programs from the lunar landings through the planning of the International Space Station. His positions were: Director, Lunar Mission Studies (1965-1967); Director, Skylab Integration Program (1967-1969); Director, Advanced Manned Mission Program (1969-1972); Director, Mission & Payload Integration (1972-1976); Executive Director, President's Committee on Science and Technology (1976-1977); Deputy Associate Administrator for Space Transportation Systems (Technical) (1977-1979); Assistant for the Space Transportation System (1979-1981); Associate Deputy Administrator (1981-1984); Associate Administrator for Space Station (1984-1985); NASA General Manager (1985-1987); Associate Administrator for Policy and Planning (1987-1988). Phil was also integral in the planning of the Apollo-Soyuz Test Project in 1975, and served as the NASA representative in the 1979 ASAT treaty negotiations.

Phil retired from NASA in 1988, and eventually he and Shirley moved to Cocoa Beach, Florida. He kept busy in retirement by consulting in the aerospace industry and served as Senior Vice President of the External Tanks Corporation, which sought funding to create space stations out of spent space shuttle external tanks. When he actually stopped working he spent time woodworking, playing cards with friends, and singing in his church choir. Phil dedicated so much of his life to his work that he didn't have much free time, but he always found time for family trips to the beach and vacations in Florida, New Hampshire, the Virgin Islands, and many others. He also enjoyed traveling, hiking, fixing anything and everything around the house (he was known as "The Master-Fixer" by his son's friends), participating in road rallies in his beloved, baby blue Triumph "TR-3" and watching his children in school activities. He will be remembered by those who loved him not only for his contributions to the space program, but for his dedication in raising a family, and all of the little things that go into the making of a successful and meaningful life. We all loved him very much, and he will be missed.
---
---
Country: USA. Agency: Convair. Bibliography: 4460, 4475, 5298.
---
---
Home - Search - Browse - Alphabetic Index: 0- 1- 2- 3- 4- 5- 6- 7- 8- 9
A- B- C- D- E- F- G- H- I- J- K- L- M- N- O- P- Q- R- S- T- U- V- W- X- Y- Z
---
© 1997-2017 Mark Wade - Contact
© / Conditions for Use
---