Home - Search - Browse - Alphabetic Index: 0- 1- 2- 3- 4- 5- 6- 7- 8- 9
A- B- C- D- E- F- G- H- I- J- K- L- M- N- O- P- Q- R- S- T- U- V- W- X- Y- Z
---
Crooks, James Wesley
---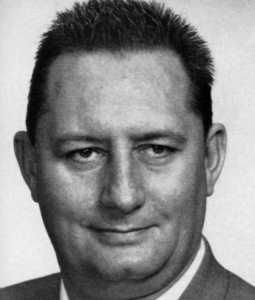 Crooks
Credit: via Richard Martin

American engineer. Inventor of the Atlas radio guidance system and the Azusa and Glotrac launch vehicle tracking systems.

Born: 1921-02-11. Died: 1983-09-12. Birth Place: Frankfort, Kansas.

Crooks was the son of a farmer, who in the depression was reduced to an odd-jobs laborer with total assets of only $12 in 1930. He was a near-prodigy as a child, grew up to be 2 m tall and 150 kg in weight, and obtained fellowships allowing him to graduate from Kansas State University in 1946 with an electrical engineering degree. Convair had already sponsored part of his education, and once he started working for them it was clear he was a genius, an intuitive engineer who could immediately comprehend the nature of a technical problem and come up with solutions that were innovative and practical. In the period 1945 to 1953 he solved the basic problems of how an intercontinental missile could be tracked and guided to an accurate impact on the other side of the world. He came up with the concept for the guidance for the Atlas missile; the Azusa and Glotrac launch vehicle tracking systems which remained in use into the next century. He also came up with the concept of equipping the Atlas with small vernier engines to obtain the necessary precise control of the missile's final velocity. He passed away, still working for Convair, at the age of 62.
---
---
Country: USA. Bibliography: 4460, 4475, 5293.
---
---
1921 February 11 - .
---
1983 September 12 - .
---
---
Home - Search - Browse - Alphabetic Index: 0- 1- 2- 3- 4- 5- 6- 7- 8- 9
A- B- C- D- E- F- G- H- I- J- K- L- M- N- O- P- Q- R- S- T- U- V- W- X- Y- Z
---
© 1997-2017 Mark Wade - Contact
© / Conditions for Use
---