Home - Search - Browse - Alphabetic Index: 0- 1- 2- 3- 4- 5- 6- 7- 8- 9
A- B- C- D- E- F- G- H- I- J- K- L- M- N- O- P- Q- R- S- T- U- V- W- X- Y- Z
---
Cosmos Mariner
---
Part of X-Prize
---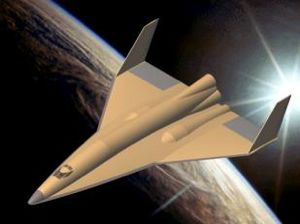 Cosmos Mariner
American manned spaceplane. Study 2004. X-Prize suborbital spaceplane concept of Lone Star Space Access, Houston, Texas.
Status: Study 2004. Thrust: 1,200.30 kN (269,838 lbf).
Cosmos Mariner was a concept of Dr. Norman LaFave of Lone Star Space Access, Houston, Texas. The rocketplane would takeoff and land from conventional airfields. Dr. LaFave was a Houston-based physicist who advised NASA on space rendezvous matters. The Cosmos Mariner employed airbreathing jet propulsion for take-off and landing from conventional airports, and rocket propulsion for ascent to 65 km altitude. From there, the vehicle coasted to a target altitude of 120 km. The airframe was designed to interface with two turbofan engines, each with 11,300-kgf static thrust. For rocket propulsion, the Cosmos Mariner was to use three 40,800 kgf thrust, staged-combustion engines. No details of the design ever emerged.
---
---
Family
:
Spaceplane
,
Suborbital
.
Country
:
USA
.
Agency
:
Lone Star
.
---
---
Back to top of page
---
Home - Search - Browse - Alphabetic Index: 0- 1- 2- 3- 4- 5- 6- 7- 8- 9
A- B- C- D- E- F- G- H- I- J- K- L- M- N- O- P- Q- R- S- T- U- V- W- X- Y- Z
---
© 1997-2019 Mark Wade - Contact
© / Conditions for Use
---