Home - Search - Browse - Alphabetic Index: 0- 1- 2- 3- 4- 5- 6- 7- 8- 9
A- B- C- D- E- F- G- H- I- J- K- L- M- N- O- P- Q- R- S- T- U- V- W- X- Y- Z
---
Chidlaw, Benjamin
---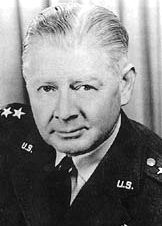 Chidlaw
Credit: NASA

American officer. Deputy, Material Command, 1945-1949; commanded several USAF research and development organizations 1949-1955.

Born: 1900-12-18. Died: 1977-02-01.

Benjamin Chidlaw was a career United States Air Force officer. He entered the U.S. Army Air Corps in 1924 as a pilot and progressed through a series of rank until he became chief of the Materiel Division at General Headquarters, Army Air Forces, in 1942. He was deputy commander of the Army Air Forces for the Mediterranean Theatre in 1944-1945, and deputy at Air Material Command, 1945-1949. He served as commander of several research and development organizations for the Air Force and retired as a four-star general in 1955.
---
---
Country: USA. Agency: USAF. Bibliography: 535, 5262.
---
---
1900 December 18 - .
---
1977 February 1 - .
---
---
Home - Search - Browse - Alphabetic Index: 0- 1- 2- 3- 4- 5- 6- 7- 8- 9
A- B- C- D- E- F- G- H- I- J- K- L- M- N- O- P- Q- R- S- T- U- V- W- X- Y- Z
---
© 1997-2017 Mark Wade - Contact
© / Conditions for Use
---