Home - Search - Browse - Alphabetic Index: 0- 1- 2- 3- 4- 5- 6- 7- 8- 9
A- B- C- D- E- F- G- H- I- J- K- L- M- N- O- P- Q- R- S- T- U- V- W- X- Y- Z
---
Chana, William Frank 'Bill'
---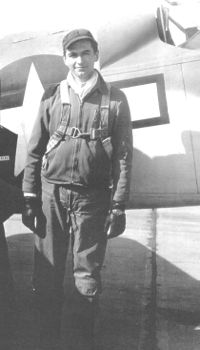 Chana
Chana, William Frank 'Bill'

American engineer. Part of the Atlas management team; worked in customer support and marketing.

Born: 1921-04-14. Died: 2012-08-03. Birth Place: Chicago, Illinois.

Chana, the son of a Western Union telegraph operator, was born in Chicago, Illinois. He spent two years in college at Purdue before being recruited to work at the Consolidated Aircraft Company in San Diego. He started there on 23 June 1941, working in the flight test function from September 1941 to 1953. He then moved to customer service, where he spent two years in 1955-1956 supervising a flight test program for the Lobber, a small rocket designed to resupply US Army troops cut off behind enemy lines. Thereafter he worked in customer support on the Atlas ICBM, then later managed an oceanographic buoy system for the Navy. After further management positions in Proposal Development, Long Range Planning, and Marketing, Chana retired from Convair in 1973.

Obituary: William F. 'Bill' Chana 1921-2012

Bill Chana was the flight test engineer for Consolidated's XB-24 Liberator and XB-32 Dominator bombers, and after the war lead the flight test engineering effort for the XC-99, the largest landplane. After the war, he was involved with the XF-92A, the world' first delta-wing airplane, the XFY-1 Pogo, the world's first vertical take-off and landing airplane, and Convair's XF2Y-1 Sea Dart, the world's only supersonic seaplane. Bill also conducted flight tests on a number of Convair's commercial airliners. Later, he was Convair's base manager for the Atlas Missile program at Fairchild AFB, near Spokane, Washington.

As an aircraft designer and test pilot, Bill was involved in the "Wee Bee," the smallest piloted plane. Bill served as president of the San Diego Aerospace Museum, and is a fellow in the American Institute of Aeronautics and Astronautics and the Society of Automotive Engineers. In 1998, he was awarded the National Air and Space Museum's A. Verville Fellowship.
---
---
Country: USA. Bibliography: 4460, 4475.
---
---
Home - Search - Browse - Alphabetic Index: 0- 1- 2- 3- 4- 5- 6- 7- 8- 9
A- B- C- D- E- F- G- H- I- J- K- L- M- N- O- P- Q- R- S- T- U- V- W- X- Y- Z
---
© 1997-2017 Mark Wade - Contact
© / Conditions for Use
---