Home - Search - Browse - Alphabetic Index: 0- 1- 2- 3- 4- 5- 6- 7- 8- 9
A- B- C- D- E- F- G- H- I- J- K- L- M- N- O- P- Q- R- S- T- U- V- W- X- Y- Z
---
Cabell, Charles P
---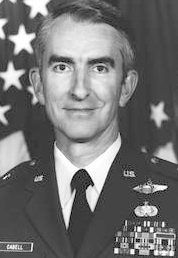 Cabell
Credit: NASA

American officer. USAF intelligence, Deputy Director, CIA 1953-1962. Promoted U-2 and Corona spy satellite. Forced to resign after Bay of Pigs debacle.

Born: 1903-10-11. Died: 1971-05-25.

Charles P. Cabell was a career officer in the Army Air Corps and later the Air Force, rising to the rank of general in 1958. During World War II he commanded a combat wing in the European theatre and later was director of operations and intelligence, Mediterranean Allied Air Forces from 1944-1945. In 1948 he was director of intelligence, Headquarters, U.S. Air Force, and from 1953-1962 he served as deputy director of the Central Intelligence Agency.
---
---
Country: USA. Agency: CIA. Bibliography: 535, 5230.
---
---
1903 October 11 - .
---
1971 May 25 - .
---
---
Home - Search - Browse - Alphabetic Index: 0- 1- 2- 3- 4- 5- 6- 7- 8- 9
A- B- C- D- E- F- G- H- I- J- K- L- M- N- O- P- Q- R- S- T- U- V- W- X- Y- Z
---
© 1997-2017 Mark Wade - Contact
© / Conditions for Use
---