Home - Search - Browse - Alphabetic Index: 0- 1- 2- 3- 4- 5- 6- 7- 8- 9
A- B- C- D- E- F- G- H- I- J- K- L- M- N- O- P- Q- R- S- T- U- V- W- X- Y- Z
---
Bowers, Jack L 'John'
---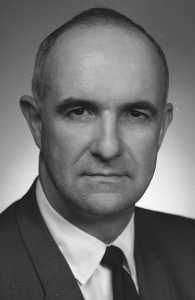 Bowers
Credit: via Richard Martin

American engineer. Convair corporate officer in charge of Atlas development during the peak of its development phase.

Born: 1920-08-25. Died: 2000-09-09. Birth Place: Colorado Springs, Colorado.

Bowers grew up in Aberdeen, Washington. After graduation from Carnegie Tech with an electrical engineering degree, he worked briefly for Westinghouse's at its research laboratories before joining the Army Air Corps in 1943. During the war he served at Wright Field , supervising air force electronics projects in electronic warfare and missile radio control. After the war, Bowers was hired by Convair as a radar and missile guidance engineer. By 1948 he was Chief Systems Development Engineer for the Navy's Terrier surface--to-air missile at Convair's Pomona division. He was named to the Convair corporate staff in 1955, and made Assistant Chief Engineer in charge of design for the Atlas ICBM in 1956. In this position he provided corporate oversight of the Atlas during its crucial period of initial flight test.

From 1960 to 1965 Bowers was become Vice President and General Manager of the Electronics Division of the Avco Corporation. He returned to Convair to become President in 1965.

In 1970 General Dynamics reorganized its subsidiaries, and Bowers spent three years consolidating a number of their defense businesses as the Ordnance and Electronic Systems Division. He was then named an Assistant Secretary of the Navy by the Nixon administration. After this he moved to New Hampshire, serving as President and CEO of Sanders Associates, an electronic warfare equipment manufacturer.
---
---
Country: USA. Agency: Convair. Bibliography: 4460, 4475, 5193.
---
---
1920 August 25 - .
---
2000 September 9 - .
---
---
Home - Search - Browse - Alphabetic Index: 0- 1- 2- 3- 4- 5- 6- 7- 8- 9
A- B- C- D- E- F- G- H- I- J- K- L- M- N- O- P- Q- R- S- T- U- V- W- X- Y- Z
---
© 1997-2017 Mark Wade - Contact
© / Conditions for Use
---