Home - Search - Browse - Alphabetic Index: 0- 1- 2- 3- 4- 5- 6- 7- 8- 9
A- B- C- D- E- F- G- H- I- J- K- L- M- N- O- P- Q- R- S- T- U- V- W- X- Y- Z
---
Bell 8048
---
Part of Bell 8000 Family
---
---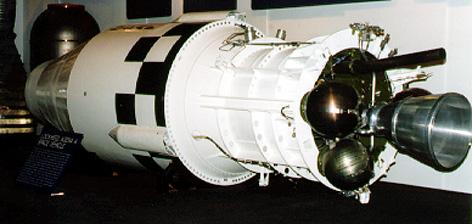 Agena A Stage
Credit: © Mark Wade
---
Bell Nitric acid/UDMH rocket engine. Out of production. Used on Agena A, derived from Rascal engine. Regeneratively cooled; used drilled holes to create the same effect as more costly stacked spaghetti rubes. First flight 1959.

AKA: LR81-B-1. Status: Out of production. Number: 20 . Thrust: 68.90 kN (15,489 lbf). Unfuelled mass: 127 kg (279 lb). Specific impulse: 276 s. Burn time: 120 s. Height: 2.16 m (7.08 ft). Diameter: 1.52 m (4.98 ft).

Harry Meyers made a major contribution to the development of Bell's Rascal and Agena engines. Although both of these engines were made of aluminum, the Agena started with a thick walled cylinder, and used a series of adjacent 3/16 inch drilled holes to create the same effect as stacked spaghetti rubes. These thrust chambers were coated, and worked well in the Agena engine.

Engine: 127 kg (279 lb). Chamber Pressure: 10.00 bar. Area Ratio: 20. Propellant Formulation: RFNA/UDMH. Thrust to Weight Ratio: 55.3622047244095. Coefficient of Thrust vacuum: 2.03929071027152.
---
---
Family: Storable liquid. Country: USA. Launch Vehicles: Thor Agena A, Atlas Agena A. Propellants: Nitric acid/UDMH. Stages: Agena A. Agency: Bell.
---
---
Home - Search - Browse - Alphabetic Index: 0- 1- 2- 3- 4- 5- 6- 7- 8- 9
A- B- C- D- E- F- G- H- I- J- K- L- M- N- O- P- Q- R- S- T- U- V- W- X- Y- Z
---
© 1997-2017 Mark Wade - Contact
© / Conditions for Use
---