Home - Search - Browse - Alphabetic Index: 0- 1- 2- 3- 4- 5- 6- 7- 8- 9
A- B- C- D- E- F- G- H- I- J- K- L- M- N- O- P- Q- R- S- T- U- V- W- X- Y- Z
---
Aurora X-Prize
---
Part of X-Prize
---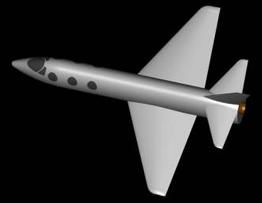 Aurora X-Prize
American manned spaceplane. Study 2004. X-Prize suborbital spaceplane concept of Fundamental Technology Systems, Orlando, Florida.
Status: Study 2004.
Aurora was a design of Ray Nielsen of Fundamental Technology Systems, Orlando, Florida. The rocketplane would takeoff and land horizontally from a conventional airfield. After takeoff at 204 kph the climb attitude would be continually increased to maintain subsonic flight until 18 km altitude was reached. At 24 km, and with a flight path angle nearly 75 degrees above the horizon, the engine would be commanded to 100% power. After main engine cut off Aurora would coast above 106 km. In preparation for re-entry, the pilot used an RCS to orient the spacecraft into the initial deceleration attitude, and the flight path angle was decreased until a turn-back toward the departure field could be initiated. The best glide profile was commanded until the downwind initial point for landing was achieved.
---
---
Family
:
Spaceplane
,
Suborbital
.
Country
:
USA
.
Agency
:
Fundamental Technology Systems
.
---
---
Back to top of page
---
Home - Search - Browse - Alphabetic Index: 0- 1- 2- 3- 4- 5- 6- 7- 8- 9
A- B- C- D- E- F- G- H- I- J- K- L- M- N- O- P- Q- R- S- T- U- V- W- X- Y- Z
---
© 1997-2019 Mark Wade - Contact
© / Conditions for Use
---