Home - Search - Browse - Alphabetic Index: 0- 1- 2- 3- 4- 5- 6- 7- 8- 9
A- B- C- D- E- F- G- H- I- J- K- L- M- N- O- P- Q- R- S- T- U- V- W- X- Y- Z
---
ASMP
---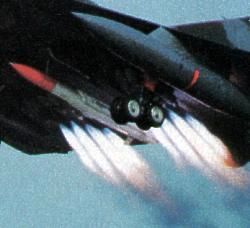 ASMP

French cruise missile. Tactical nuclear. ASMP-A is improved version expected to enter service in 2008.

AKA: TN-81. Status: Active. Payload: 140 kg (300 lb). Gross mass: 857 kg (1,889 lb). Height: 5.38 m (17.65 ft). Diameter: 0.38 m (1.24 ft). Span: 0.98 m (3.21 ft). Location: Chatillon, France.

The first 18 nuclear-tipped missiles were equipped with the TN-80 warhead (300 KT). The TN-80 warhead was subsequently replaced by an improved version, the TN-81 (300 KT as well). The TN-80s were disassembled. A total of 65 TN-81s were produced.

Maximum range: 240 km (140 mi). Number Standard Warheads: 1. Standard warhead: TN-81. Warhead yield: 300 KT. Boost Propulsion: Solid rocket. Maximum speed: 3,390 kph (2,100 mph). Initial Operational Capability: 1986.
---
---
Family: aircraft-launched, IRCM. Country: France. Agency: Les Mureaux.
---
---
Home - Search - Browse - Alphabetic Index: 0- 1- 2- 3- 4- 5- 6- 7- 8- 9
A- B- C- D- E- F- G- H- I- J- K- L- M- N- O- P- Q- R- S- T- U- V- W- X- Y- Z
---
© 1997-2017 Mark Wade - Contact
© / Conditions for Use
---