Home - Search - Browse - Alphabetic Index: 0- 1- 2- 3- 4- 5- 6- 7- 8- 9
A- B- C- D- E- F- G- H- I- J- K- L- M- N- O- P- Q- R- S- T- U- V- W- X- Y- Z
---
Artemis
---
Part of Italsat Family
---
---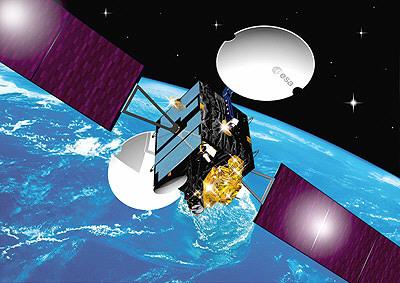 Artemis
---
European communications technology satellite. One launch, 2001.07.12. Artemis was a European Space Agency satellite to test new communications technologies. Experimental communication satellite built by Alenia Spazio for ESA, International. Launched 2001. Used the GeoBus (Italsat Bus) bus.

AKA: Advanced Relay TEchnology MISsion. Status: Operational 2001. First Launch: 2001-07-12. Last Launch: 2001-07-12. Number: 1 . Gross mass: 3,105 kg (6,845 lb). Unfuelled mass: 1,567 kg (3,454 lb).

It carried the Silex laser communications experiment, an S-band inter-orbit link, a Ka-band data relay package, a large L-band antenna for mobile services, and an L-band navigation package. The 3105 kg satellite was equipped with an Astrium S400 400 N liquid apogee engine with 1538 kg of propellants; a set of 10 N RCS thrusters; and four 20 mN ion thrusters with 40 kg of xenon. The 2.5 kW spacecraft was to provide voice and data communications between mobile phones in Europe and North America, and act as a relay satellite between low-Earth orbiters and ground stations. Eventually, as part of the planned EGNOS system (to be operational by about 2010) it was to provide navigation/location determination as an independent European counterpart to the GPS and GLONASS fleets.

Electric System: 2.50 average kW.
---
More at: Artemis.
---
Family: Communications technology sat, Technology. Country: Europe. Engines: S400, EITA, RIT-10. Launch Vehicles: Ariane 5, Ariane 5G. Launch Sites: Kourou, Kourou ELA3. Agency: ESA. Bibliography: 2, 296, 3599.
---
Photo Gallery
---
---
Artemis
Credit: Manufacturer Image
---
---
Thelma
Credit: Manufacturer Image
---
---
---
Home - Search - Browse - Alphabetic Index: 0- 1- 2- 3- 4- 5- 6- 7- 8- 9
A- B- C- D- E- F- G- H- I- J- K- L- M- N- O- P- Q- R- S- T- U- V- W- X- Y- Z
---
© 1997-2017 Mark Wade - Contact
© / Conditions for Use
---