Home - Search - Browse - Alphabetic Index: 0- 1- 2- 3- 4- 5- 6- 7- 8- 9
A- B- C- D- E- F- G- H- I- J- K- L- M- N- O- P- Q- R- S- T- U- V- W- X- Y- Z
---
Alt Air
---
Part of Minuteman
---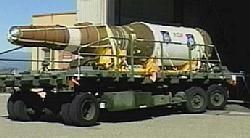 AltAir
American air-launched target missile. Single-stage launch vehicle air dropped from a C-130 consisting of a surplus Minuteman SR19 stage and a payload section.
Status: Active. First Launch: 1997-01-30. Last Launch: 1997-01-30. Number: 1 . Payload: 450 kg (990 lb). Thrust: 267.00 kN (60,023 lbf). Gross mass: 9,000 kg (19,800 lb). Height: 8.54 m (28.01 ft). Apogee: 450 km (270 mi).
In 1996 SVC proposed the AltAir program to demonstrate use of a C-130 cargo aircraft to launch Minuteman class target boosters on precise ballistic trajectories. The program was conducted by the National Air Intelligence Center through the Have Gold contract. The AltAir vehicle, mounted on a transfer cradle, was deployed from the C-130 cargo bay using a drogue parachute. After separation from the cradle two main parachutes were used to control the AltAir's decent to 1600 m. The main parachute was then released and the rocket motor ignited. The vehicle's INS guidance system, coupled with its Global Positioning System (GPS), provided the required target placement accuracy and corrected for the deployment errors through real time retargeting within the first 10 seconds of powered boost.
Payload: 450 kg (990 lb) to a 820 km range or 1400 kg to 450 km range. Minimum range: 820 km (500 mi).
---
---
Family
:
aircraft-launched
,
target
.
Country
:
USA
.
Agency
:
SVC
.
---
---
1997 January 30 -
.
Launch Site
:
Point Mugu
.
Launch Platform
: C-130.
LV Family
:
Minuteman
.
Launch Vehicle
:
Alt Air
.
FAILURE
: Failure.
---
---
Back to top of page
---
Home - Search - Browse - Alphabetic Index: 0- 1- 2- 3- 4- 5- 6- 7- 8- 9
A- B- C- D- E- F- G- H- I- J- K- L- M- N- O- P- Q- R- S- T- U- V- W- X- Y- Z
---
© 1997-2019 Mark Wade - Contact
© / Conditions for Use
---