Home - Search - Browse - Alphabetic Index: 0- 1- 2- 3- 4- 5- 6- 7- 8- 9
A- B- C- D- E- F- G- H- I- J- K- L- M- N- O- P- Q- R- S- T- U- V- W- X- Y- Z
---
217/I
---
Part of 210 missile series
---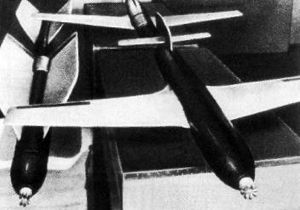 217/I
First anti-aircraft missile flown in the USSR. The 217/I had a conventional aircraft layout, with a main wing and aerodynamic control surfaces on the tail.
Thrust: 18.14 kN (4,078 lbf). Gross mass: 120 kg (260 lb). Height: 2.27 m (7.44 ft). Span: 2.20 m (7.20 ft). Apogee: 3.00 km (1.80 mi).
The first Russian experiments with rockets in the antiaircraft role were conducted by Russia before World War I. Tests conducted from 1909-1912 at Sestroretska were unsuccessful due to the poor performance of powder rockets of the time. N V Gerasimov (1909-1912), N A Sytenko (1909-1910), I V Volovskiy (1912) and others all conducted tests at this time. Despite the lack of success in Russia, rockets were used as a weapon against hydrogen-filled German dirigibles during the war. Ernst Lehmann, who would later die aboard the Hindenburg, described a rocket attack on his zeppelin LZ-90 in January 1916. He was dropping 3000 kg of bombs at the rail yard at Bar-le-Dieu, France, when enemy rockets forced him to climb to 3260 m altitude.
Korolev's experimental 217 rocket was envisioned to be developed as a SAM.
Maximum range: 6.80 km (4.20 mi). Boost Propulsion: Solid rocket. Maximum speed: 300 kph (180 mph). Engine: 17.5 kg;3.5 sec burn time; PTP propellant.
---
---
Family
:
surface-to-air
.
Country
:
Russia
.
Agency
:
Korolev bureau
.
---
---
Back to top of page
---
Home - Search - Browse - Alphabetic Index: 0- 1- 2- 3- 4- 5- 6- 7- 8- 9
A- B- C- D- E- F- G- H- I- J- K- L- M- N- O- P- Q- R- S- T- U- V- W- X- Y- Z
---
© 1997-2019 Mark Wade - Contact
© / Conditions for Use
---