Home - Search - Browse - Alphabetic Index: 0- 1- 2- 3- 4- 5- 6- 7- 8- 9
A- B- C- D- E- F- G- H- I- J- K- L- M- N- O- P- Q- R- S- T- U- V- W- X- Y- Z
---
212 missile
---
Part of 210 missile series
---
---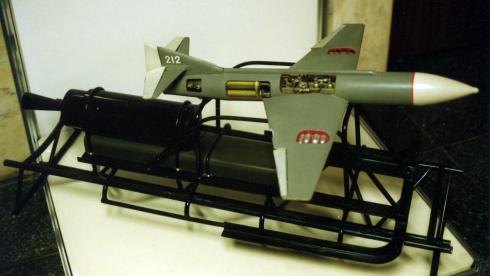 212
Credit: © Mark Wade
---
Russian air-to-surface missile. Korolev's second design for a rocket-propelled cruise missile. It was flight tested twice after his arrest in 1939 but work was then abandoned.
Status: Cancelled 1940. Thrust: 667 N (149 lbf). Gross mass: 165 kg (363 lb). Height: 2.59 m (8.49 ft). Span: 3.05 m (10.00 ft).
Design of the catapult-launched winged rocket was completed on 2 August 1936. Two tests of the catapult using a mock-up of the rocket in November 1936 were failures - after release the rocket would contact the sled and crash. It was decided the missile would be air-launched instead, and captive-carry tests of a mock-up on a TB-3 bomber were successful on 27 May 1938. Two days later Korolev was injured in an explosion during a firing test of the rocket on a stand. Korolev, denounced by Glushko, was arrested a month later and imprisoned.
However development continued in his absence. On 19 January 1939 it was decided not to use Glushko's ORM-65 engine in the 212 due to continuing explosions and control-system failures. At this time the missile was redesignated the 803. There are some reports that the remaining team members conducted two flight tests of the 212 in 1939, neither of them successful due to control system failures. The project was then abandoned.
Boost Propulsion: Liquid rocket. Cruise Thrust: 150 kgf. Cruise engine: ORM-65.
---
---
Family
:
aircraft-launched
,
air-to-surface
.
Country
:
Russia
.
Agency
:
Korolev bureau
.
---
Photo Gallery
---
---
212
Korolev model 212 rocket
Credit: © Mark Wade
---
---
---
Back to top of page
---
Home - Search - Browse - Alphabetic Index: 0- 1- 2- 3- 4- 5- 6- 7- 8- 9
A- B- C- D- E- F- G- H- I- J- K- L- M- N- O- P- Q- R- S- T- U- V- W- X- Y- Z
---
© 1997-2019 Mark Wade - Contact
© / Conditions for Use
---