Home - Search - Browse - Alphabetic Index: 0- 1- 2- 3- 4- 5- 6- 7- 8- 9
A- B- C- D- E- F- G- H- I- J- K- L- M- N- O- P- Q- R- S- T- U- V- W- X- Y- Z
---
X-34
---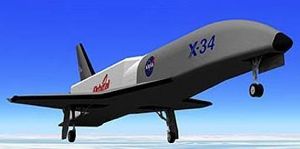 X-34
Credit: NASA
NASA failed to attract industry co-investment to develop the original X-34A air-launched, reusable, low-technology, low-cost orbital launch vehicle concept. So the project was scaled back and NASA contracted with Orbital Sciences on 28 August 1996 to build and fly the X-34 unmanned technology demonstrator. This program in turn developed overruns and was cancelled in 2001 before a test flight was made.
Status: Cancelled in 2001. Thrust: 268.93 kN (60,457 lbf). Gross mass: 21,800 kg (48,000 lb). Unfuelled mass: 8,200 kg (18,000 lb). Specific impulse: 310 s. Burn time: 150 s. Height: 17.68 m (58.00 ft). Span: 8.54 m (28.01 ft).
Objectives of the X-34 program were to demonstrate new, efficient vehicle processing and launch operations and evaluate the performance of advanced reusable launch vehicle technologies. The program was to demonstrate a nominal two-week turnaround between flights, and a surge capability of two flights within 24 hours. The single stage vehicle used NASA's low cost Fastrac engine for liquid oxygen/kerosene propulsion. The vehicle itself used all-composite primary and secondary structure. Its autonomous flight control system was to make automated approach and landings. Flights were planned to speeds of Mach 8 over an 800 km range. The original 1996 contract with Orbital Sciences covered construction of three flight vehicles and 26 powered and unpowered flights launched from an L-1011.
NASA rolled out the first unpowered aerodynamic flight test vehicle in April 1999 and conducted captive-carry flights from the L-1011 later in the year. By July 2000 the vehicle was being towed by a truck down the runway at Edwards. Before it could become airborne, a NASA review of the project indicated costs continued to rise beyond budget, and that the benefits to be derived from continuing the program did not justify the cost. The X-34 was cancelled, together with the X-33, on 1 March 2001.
The X-34A's drop weight of 21,800 kg included 13,600 kg of propellant. Investment in the project before cancellation included the original $85.7 million contract with Orbital Sciences; $16 million from NASA and other government agencies for wind tunnel testing, thermal protection systems, vehicle health monitoring, ground support, engine testing and flight support; $ 10 million in Orbital corporate funds for modifications to its L-1011 carrier aircraft to accommodate the X-34. NASA's Marshall Space Flight Center managed the program; and Marshall expenses to develop the Fastrac engine.
Key technologies planned for demonstration on the X-34 were: lightweight composite airframe structures that required little inspection; reusable composite propellant tanks, tank insulation and other propulsion components; advanced thermal protection systems capable of surviving subsonic flights through rain and fog; integrated (built-in) low-cost avionics, including differential Global Positioning System and Inertial Navigation System; integrated automated vehicle health monitoring and checkout; and a conformal air data system for flight control inputs that would replace traditional blade-like air data probes, unable to survive reentry temperatures.
At one point a heavier, X-34B, which would be launched by a 747, was proposed. This presumably would have been a version of the original design, capable of releasing an upper stage to take a payload to orbit.
---
---
Subtopics
---
| | |
| --- | --- |
| | X-34A The original X-34A was a three-stage vehicle consisting of the Orbital Sciences L-1011; which air-launched the X-34A reusable rocketplane; which space-launched the rocket-powered third stage; which would take a small payload to orbit. Only the third stage would be expendable. |
---
| | |
| --- | --- |
| | X-34A-1 LOx/Kerosene propellant rocket stage. Original design for the winged first stage of the X-34A. |
---
Family
:
Spaceplane
,
Suborbital
,
US Rocketplanes
.
Country
:
USA
.
Engines
:
Fastrac
.
Launch Vehicles
:
X-34A
.
Propellants
:
Lox/Kerosene
.
Agency
:
OSC
.
---
Photo Gallery
---
---
X-34
Credit: NASA
---
---
| | |
| --- | --- |
| | X-34A1 |
---
---
---
Back to top of page
---
Home - Search - Browse - Alphabetic Index: 0- 1- 2- 3- 4- 5- 6- 7- 8- 9
A- B- C- D- E- F- G- H- I- J- K- L- M- N- O- P- Q- R- S- T- U- V- W- X- Y- Z
---
© 1997-2019 Mark Wade - Contact
© / Conditions for Use
---